WILL THE THRILL'S
TOP TWENTY-FIVE FAVORITE LOUNGE ALBUMS OF ALL TIME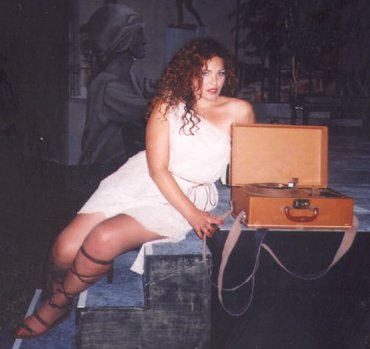 The best from my collection of Crime Jazz, Exotica, Vintage Vocalists and Smooth Sounds of Seduction.
Find the LPs if you can in your nearest bargain bin, though some have been released on CD too. In any format, these albums are timeless,
the Sounds of Thrillville:
PETER GUNN (Original Soundtrack)
Henry Mancini – the ultimate cool private eye music


LONELYVILLE: THE NERVOUS BEAT
Creed Taylor Orchestra – the greatest crime jazz album you've never heard


POLYNESIAN PARADISE
Phil Moore Orchestra – exotica favorites, exquisitely done


JUNGLE JAZZ
Les Baxter – sexy sax, intoxicating instrumentals


FRANCIS ALBERT SINATRA AND ANTONIO CARLOS JOBIM – the Latin lounge lizard's soundtrack, Sinatra at his smoothest


SLEEP WARM
Dean Martin –lounge lullabies featuring Dino's finest vocals over orchestra directed by The Chairman himself


HYPNOTIQUE
Martin Denny – sensuous, soothing and surreal


ABOUT THE BLUES
Julie London – my favorite torch singer at her most sly, smoky and seductive


THE WILDEST!
Louis Prima, Keely Smith, Sam Butera and the Witnesses – premiere collection from Vegas's coolest lounge act, the heppest cats and kitten ever, man


SPACE AGE BACHELOR PAD MUSIC (Compilation)
Esquivel – the album that launched the Lounge Revival of the 90s, still the Atomic Bomb of Sonic Swingdom


THAT'S ALL
Bobby Darin – one of the swingin'est LPs ever featuring two of Bobby's biggest hits, "Mack the Knife" and "Beyond the Sea"


VOODOO
Robert Drasnin – moody moonlight melodies


4:35 EXOTICA
Ted Auletta and his Orchestra – Polynesian Pop at its purest


MMM…NICE
Bob Thompson – the best from a genius pioneer of Space Age Pop


LONESOME ECHO
Jackie Gleason – romantic and rich, lush and lively make-out music


SAMMY DAVIS JR. AT THE COCOANUT GROVE (Live) – the most talented, versatile performer of our time captured at his peak


A TOUCH OF TABASCO
Rosemary Clooney with Perez Prado – Cubano Cha-Cha Mambo Magnifico


INTRODUCING LINDA LAWSON
Linda Lawson – unsung cocktail classic by a sultry siren and good friend


MUSIC TO READ JAMES BOND
Various Artists – vibrant variations of 007's theme music


She's A LADY
Tom Jones – Lounge's Largest Lungs cut loose, 70s style - caution: may cause spontaneous conception….


WHIPPED CREAM & OTHER DELIGHTS
Herb Alpert and the Tijuana Brass - this is pretty much everyone's favorite lounge album, not only because of the content, including Herb's signature tune "A Taste of Honey," but most likely due to what is probably the sexiest album cover of all time


THE LEGEND OF PELE
Arthur Lyman - volcano melodies and tropical goddess music from the master of the Mai Tai mood


STACCATO (Original Soundtrack)
Elmer Bernstein - rivals Mancini's "Peter Gunn" as the definitive TV PI score, bold and brassy but smooth and suave, just like John Cassavettes in the title role as the beatnik musician gumshoe


JUN'GALA
Marty Wilson and His Orchestra - exciting exotica, a sonic safari for the soul


VOODOO!
Richard Hayman and His Orchestra - not to be confused with Robert Drasnin's album of the same title, this is a sultry, steamy cauldron of zombie tunes that'll liven up any undead shindig...