By Will ("The Thrill") Viharo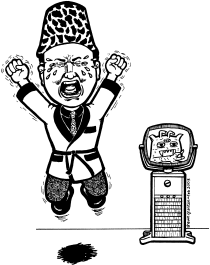 THRILLVILLE BEAT
By Will "the Thrill" Viharo
REPUBLICANS RULE, DEMOCRACY DOOMED! MOVIES BY MAIL: RETURN TO SENDER; ALOHA JULIE PARRISH; & THE LOUNGE-SOUL CONNECTION!
TOUGH LUCK FOR TONTO
Just so you know, I started writing this column BEFORE October 7, the day the Republican party stole California from under the noses of the dumbfounded Democrats, so convinced am I of general public ignorance and the inevitability of a popular millionaire movie star totally trouncing the seasoned competition despite his obvious lack of political qualifications. I hope I get to completely revise the following before it's actually posted:
Dig it: we now have a Governor whose political role models include Richard Nixon, Ronald Reagan, and Adolph Hitler. If you are a Democrat or progressive who voted to boot Davis in favor of this conservative cyborg, I don't want to hear you whine when Arnie helps Bush-boy win Caaal-eee-forn-ia in 2004, stumping for a president whose legacy will go down as the most embarrassing, dishonest and arrogant in US history - and who has run up a much more destructive deficit than our former Governor, who got one bad rap. People quoting the apparently portentous titles of Arnie's flicks - like Total Recall, The Running Man, Terminator 2:Judgement Day, even Predator and Kindergarten Cop - always fail to mention a couple others that will no doubt prove even more prophetic: True Lies and Raw Deal. I couldn;t care less about Arnie's supposed "groping" of women - as with Clinton, his personal peccadilloes are none of my business. But the fact that he had anything positive to say about Hitler, in any context, I found extremely disturbing, especially the quote lauding Hitler's ability to get crowds of people to agree with him. There have been all kinds of quotes about Arnold's lust for power at any cost. It's been well documented. He failed to answer a single question about "saving" California's economy, refused to debate the man he wanted to replace in office (because he's a god damn chicken when it comes to competing in any contest that doesn't require brute strength). His arrogance and ignorance were on full display - unashamedly, I'll give him that. He hasn't tried to disguise himself. And look how many people fell for it. I used to think California was a bastion of common sense and hard won civil liberties. We're as gullible as the rest of the country.
I'd like to poll Arnie's supporters and find out exactly how many of them also lambasted people like Tim Robbins and Susan Sarandon for espousing their own political views, since apparently they're "only actors" who should have no voice in the political arena. And here a millionaire movie star is now running the show, which has far more impact on the public at large than merely speaking one's mind - he's actually dictating policy (thanks to Pete Wilson and associates, now back in business!) that directly affects all of us, and his only credentials come from Hollywood. (If he wasnt the worlds highest profile action star, but just a big goofy lug with a thick silly accent, you really think hed be Governor right now?) Personally, this lack of political experience doesn't bother me as much as his insufferably arrogant attitude that he can "fix" Sacramento, just because he can bench press a few hundred pounds without breaking a sweat. I never begrudge any celebrity, or anyone, right or left, from publicly airing their views. But when it comes to actually holding office, I prefer someone who shares my ideals. As we all do. In truth, if a Republican Governor was "overthrown" and replaced with, say, Alec Baldwin or Harry Belafonte, I'd rejoice. But I admit it, unlike these other hypocrites who only attack celebrities who disagree with them, on the false premise that entertainers shouldn't mix in politics. I bet those same people just love Arnie, don't you?
And how about these youthful airheads who finally took notice of the world around them and registered to vote just to support someone they primarily know from their local Blockbuster? Pathetic, disgraceful - stupid. If you vote for an idiot, whether it's Arnie or Bushy, that tends to make you seem like an idiot, at least in this regard. I don't mean to sound patronizing - I pity you, and I pity me too, since your vote rendered mine irrelevant. I try to accept all different points of view. But people like W. and Arnie are obviously unqualified to lead a diverse population, and yet, there they are, claiming to represent my interests, when they couldn't be any further from who I am. I resent that, I must tell you. I appreciate the fact you at least voted, but if you helped put us in this precarious position, you're at least acting like a complete, mindless idiot, plain and simple. Don't blame me. People normally vote for whomever they can relate to the most, and Arnold Schwarzenegger is a first class, A-1 idiot, as painfully demonstrated by his arrogant refusal to debate, to answer specific policy questions, and his horrendously clueless, pre-scripted performance in the one (alleged) debate he did participate in. Not to mention his long career of insufferably stupid movies. which, I understand, are also quite popular with idiots. Maybe its a coincidence. Well see.
Normally, I try to respect differing opinions, since everyone is entitled to their own perspective, based on their own place in life, but in this case, especially if you are a so-(re)called Democrat or progressive who helped Arnie get into office: KISS MY ASS! (Especially if you're related to a Kennedy - no excuses!) Because you just fucked over me and every other Californian interested in social justice. You also gave the Bush re-election campaign a big boost, and that fright-jacketed frat boy has clearly demonstrated that his administration is an enemy of America's tradition of the individual's freedom, making a mockery of our core values of equality and liberty for all. Basically, if you voted for Arnold, I think you're a traitor to Democracy and fair play, even if you're a personal friend of mine (and so far no one I know has copped to supporting this tragic, brilliantly and deviously masterminded coup.)
If you're a Republican and you helped make this happen with your vote, I can't really blame you, because this is what Republicans do nowadays, they win by any means necessary, no matter what it takes, right or wrong, so I expect nothing else from your ilk. Force-feeding the mainstream population your extremist ideology has become standard party policy. But you certainly have a right to your voice, and your ideals, even as I wholeheartedly reject them and resent your efforts to turn them into Law. I just wish more people on my side were half as determined to succeed with their own cause, since I personally find the liberal agenda much more fairly balanced for all citizens of every cast, color, and creed than the socially oppressive, culturally repressive, prejudicial, religiously-biased conservative viewpoint.
The Republican party's rabid right wing have again successfully exploited yet another loophole in our political process and have stolen another crucial seat in their bid to eradicate the left and any opposing ideologies from our liberal constitution. To me, this is the scariest thing since the Nazis took over their own country with brilliantly deceitful tactics. And these fanatics will continue to win as long as we, the People, let them. Gray Davis committed no egregious crimes, did not create the fiscal crisis paralyzing not just this state but the whole nation, and yet he was booted out of office prematurely by a misguided constituency. Brave soldiers are pointlessly dying and jobless people are needlessly starving daily because of George W. Bush's insidiously stubborn deceptions and tragic ineptitude as a leader, and yet he's raising millions for his re-election campaign. How very, very sad.
I used to be apathetic about Schwarzenegger. His awful acting and shitty movies were good for a few laughs, and as a personality, he was harmlessly charming in a goofy, buffoonish, simpleton kinda way, and extremely easy to ignore altogether, which I did most of the time. Now I can't stand the sight or sound of him, since he has imposed his massively egocentric career ambitions on my personal life.
And it's not just my life as a citizen he's going to (try to) fuck up. For instance, why is Arnold so against Indian tribe gaming? Simple. They're not immigrants. They were here first, and if anything, we owe them a lot more than they're already paying us. Like most rich white men whose ancestors come from Europe, Arnold resents this reality and resists this restitution.
It's now around midnight, October 8. Just looked over this part of the column. Didn't change a word. Sigh.
Let the TOTAL RECALL ARNOLD campaign begin now her in Thrillville, where Arnold will never be Governor, and where I'll never show any of his stupid movies, either.
If you read this and plan on trying to change my mind with an aggressively hostile email, or just to rub it in- don't bother. In this particular case, I have zero patience for hearing your opposing opinions, and I'll just delete 'em without a response. You already have my opinion, since for some reason you bothered to look it up, and if you don't agree with it, fine. I've already heard yours, loud and clear, at the ballot box. Your voice just drowned mine out in the recall anyway. I'm just spitting in the Wind here. Let it go at that.
GET OFF YOUR ASS AND JUST SAY NO TO NETFLIX (& WALMART, ETC.)!
Speaking of evil revolutions I conscientiously object to, this whole trend of renting movies off the Internet really burns my ass. Why? Because they're stealing business away from great Mom and Pop indie video stores like The Video Room in Piedmont and Movie Image in Berkeley by catering to people's basic laziness (and cheapness, no late fees). I mean, what happened to the fine art of browsing? Don't you want to read the back cover of the box and see if it's sanctioned by Ain't It Cool News, and, more significantly, ask for advice from a well-informed film enthusiast behind the counter? Where would movie geeks like Quentin Tarantino be today if they hadn't honed their skills and fed their obsession while shelving videotapes and exchanging tidbits of cinematic insight with fellow lonely film fans? Hell, I used to work at Movie Image, sold my novel over the counter, met a lot of cool people and cute chicks. I even married a customer, right there in the store, in the Comedy section! Lasted almost six months! Okay, bad example, I carried it to far, my former M.O. But you get my drift. Get some exercise, you goddamn couch potatoes. Turn off the computer, take a brisk walk to the corner, keep walking past Blockbuster or Hollywood Video or any of those corporate jerk-offs, and get your film fix by Supporting Your Local Video Store. 'Nuff said.
ALOHA JULIE PARRISH R.I.P.
Those of you who subscribe to my Thrillville Flash newsletter are already aware that one of my dearest friends, Julie Parrish, passed away suddenly on October 1 after a decade-long bout with cancer, which she waged with grace, style, courage and wit, never losing her warm glow and timeless beauty in the process. You may know her as one of Elvis's love interests in Paradise, Hawaiian Style (1966), or as the girlfriend of the diner owner on Beverly Hills 90210, or from the first episode of the original Star Trek, or any number of television and movie roles. But if you really want to know who she was and what she was about, go to the front page of her web site, www.julieparrish.com, and read her intro. She was a truly remarkable human being, and she will be sorely missed by all lucky enough to have known her. She spun the wheel once in Thrillville, and roasted me at my 40th birthday party in Palm Springs just last April, the last time I saw her.
Aloha, baby. Mahalo for the memories. You're swingin' with The King now, I just know it.
THE LOUNGE-SOUL CONNECTION
Frank Sinatra. Barry White. Mel Torme. Isaac Hayes. Sammy Davis Jr. The Temptations. Eartha Kitt. Aretha Franklin. Dean Martin. Al Green. Nat King Cole. Marvin Gaye. Sarah Vaughn. Gladys Knight. Lou Rawls. The Four Tops. Louis Prima & Keely Smith. Ike & Tina Turner. Bobby Darin. Smokey Robinson. Julie London. The Supremes, Nancy Wilson, Stevie Wonder, Steve Lawrence and Eydie Gorme, The Jackson 5, Tony Bennett, Otis Redding, Tom Jones, Jackie Wilson...
What do all these musical icons have in common (besides being mostly dead and/or ethnic)?
It's all about the pinkie ring, baby. Or the Suit. Or the Shoes. Or just plain Style - smooth 'n' simple.
Monica and I call it "The Lounge-Soul Connection," which was the basis for the selection of music for our epic wedding in at the Cal-Neva in Tahoe on May 31, 2001, all of which I burned myself on CDs, containing hits from all the above artists and their contemporaries. The mood and mission of classic lounge and soul music is uniformly one of romance, class and sass. The Lounge-Soul Connection is about great personal style that isn't fashion-conscious, sex appeal that isn't cheap or crass. Coolness, without attitude. Confidence, without arrogance. And it's all put together by that sadly vanishing musical element: Melody.
This month I'm going to display Lounge-Soul Connection on the Thrillville stage with two outta-sight, in-crowd multi-media extravaganzas, both at that Oaktown's funky, swingin' hipster haven, The Parkway Speakeasy Theater:
First, on Thursday, November 6 at 9PM sharp: shag Austin Powers, baby, it's the ultimate '60s spy spoof CASINO ROYALE (1967), with various comic giants playing different versions of James Bond: David Niven, Peter Sellars, and Woody Allen, with comic support by original Bond girl Ursula Andress and Orson Welles as the main super-villain, plus many more, with a script written and directed by an incredible collaboration of movie mavens including John Huston, Billy Wilder, Joseph Heller and Val Guest, to same but a few! The results of this incredible combo of talent are as brilliantly psychedelic as you'd expect. The soundtrack features '60s lounge-soul legends Dusty Springfield and the Tijuana Brass, but the real appeal of this program will be the live performance before the movie by one of our all-time favorite local bands, PROJECT PIMENTO (www.projectpimento.com) the world's first and only lounge band featuring a theremin (played by Robby Virus) celebrating the release of their first CD, Magical Moods of the Theremin. Their song list includes everything from the 007 anthem Diamonds Are Forever to exotica like Bali Ha'i to Santana's Black Magic Woman (!) to Mancini's Peter Gunn, including the original lyrics ("Bye Bye Baby") sung by sultry chanteuse Miss Lola Bombay. These are not your daddy's standards, baby - they bring retro culture into the 21st Century with a shiny new spin.
Then two weeks later, on Thursday, November 20, also at 9PM sharp, something you jive turkeys can really be thankful for: it's SOUL NITE 3 featuring the blaxploitation landmark SUPERFLY (1973), directed by Gordon Parks Jr and starring Ron O'Neal as archetypal mack daddy Youngblood Priest with a legendary score by the great Curtis Mayfield. But again, it's the live musical act preceding the flick that really makes this a can't-miss ticket: this time it's Oaktown's own funk-lounge-soul joint THE MOCHA VELVET COMBINATION, led by man-about-town Ed Harris, of Funky Soul Stop records in Downtown Oakland, your source for classic soul/funk/jazz/R&B on vinyl (510.452.2452). You've probably seen Ed around the East Bay, looking all Detroit 1965 in his porkpie hat and sharp sport jackets. If there's a local exponent of the Lounge-Soul connection, Ed is it. Put on your best threads and come check him out, baby.
In The Terminator, Arnold returned from the future to rescue mankind from destroying itself. I'm returning from the past on the same mission. Let's hope I'm more successful.
NEXT MONTH: THE THRILLVILLIAN CANDIDATE!