By Will ("The Thrill") Viharo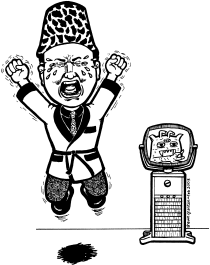 THRILLVILLE BEAT
By Will "the Thrill" Viharo
MAY/JUNE 2004:
OUR OWN FUN IN ACAPULCO (MEXICO CITY & GUADALAJARA, TOO!); CHILIEAN CHILLS & NAUTICAL UNDEAD NAZIS; SHATNER CAMP & A SHANTY TRAMP
NOT POLITICS AS USUAL…..
I hereby declare in my own private public forum that I am sick of politics, and after this section, there will be no further mention of politics, at least not in this column, which will last for two months instead of the usual one. I optimistically predict Bush will lose the November election because he is a loser and now we have evidence of it, plus this whole 9/11/ Iraq scandal, combined with Enron, etc., will make him the most disreputable and dishonorable president in the history of our nation, making Nixon look like Lincoln by comparison. But we'll see. I have already detailed my disillusionment with the establishment as a whole in my last column, wherein I told you how I (eventually) re-registered as a Decline to State. I do still think of myself as a "Rat Pack Democrat," which I define as being socially liberal, but with a sense of classic style and a politically incorrect sense of humor. But this qualification was not offered on the registry, so it remains my own personal affiliation. Meantime, regardless of the chaos swirling around us, I have my own life to lead, not just here in the US, but abroad, and with a broad, a very special one, Monica, Tiki Goddess.
We just got back from a 10-day vacation in Mexico, visiting three distinctly disparate cities, details to follow. Everyone I talked to, from the locals to fellow tourists from all over the world, hate George W. Bush with a passion and is hoping, as many of us peace and freedom-loving Americanos do, we can get a fresh start with John Kerry. Again, we'll see. For now, back to Mexico, a place in some ways I wish I'd never left, for reasons to be explained….
FUN IN ACAPULCO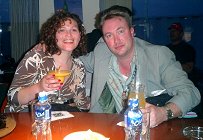 Our first stop South of the Border was a two hour layover in the Mexico City airport, where we went through customs (my first time ever) before making a connecting flight to Acapulco. It was trippy, surrounded by mostly Mexican citizens but also a cosmopolitan mix from around the globe, plus the clocks were all on military time, and everything was measured in kilometers, and money was pesos. This may sound funny to you, but this was the first time I ever had to use my passport. I felt very worldly as I made it past customs. We then sat in a bar and I ordered my first Mexican cocktail ("Sex on the Beach") with my first fistful of pesos.
The weirdest thing about the flight over was that while waiting in line to check-in at the SF Airport, we ran into Barry Gifford, the author, who just happened to be on the exact same flight as us, to Mexico City, where he had some business, including appearing in a documentary. I'd met Barry a number of times at book signings over the years, but really only became acquainted with him on a social basis in North Beach this past January, at a soiree honoring "Detour" legend Ann Savage, hosted by Eddie Muller, in celebration of his 2nd annual film noir fest at the Castro. After that, I invited Barry to appear at the Parkway before a screening of Wild at Heart, to which he agreed (April 15.) So we had a chance to chat about that and other things, and me being me and him being him, I felt like a first class idiot. Even though Barry flew first class and we were at the back of the plane. But I had Monica, so I was travelling in style. We made plans with Barry to hook up in Mexico City.
In Acapulco we stayed at the stunningly gorgeous and luxurious Fairmont Acapulco Princess, a five star resort modeled after an Aztec Pyramid.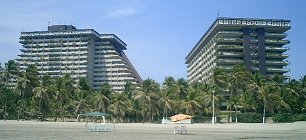 This was the "vacation" part of our vacation. The Princess is located a ways off the Acapulco's main strip, "El Costero," and is on the Pacific as opposed to the Bay. There is a difference in undertow, as we belatedly discovered, though while we there at least, the water right outside the Princes was calm, shallow and smooth, very much like the waters off Waikiki, still my all time favorite public beach. But we had the most relaxing fun swimming in the many pools around the resort, reminiscent of the Hyatt Regency in Kauai, where we'd spent part of our honeymoon almost three years ago. There was even a bar to swim up to. It was heaven.
The irony about this trip was, we were paying for most of it out of a settlement for that horrible hit and run accident that destroyed our wedding car and nearly killed Monica in November of 2001. At one point we toasted the asshole who creamed our car, Jesse James Collins. I do not wish him well, nonetheless.
Anyway, the real world seemed far away, or at least, our place in it did. We ate and drank and made love under the Mexican moon, and then on our second night there, made our pilgrimage to the Cliffs at La Perla, where Elvis's double dived off in Fun in Acapulco (1963), the first E flick I ever remember seeing on TV, and the reason we both chose Acapulco as our primary Mexican destination. We ate at the restaurant and ate crappy food and watched the divers do their thing, plunging around a mile into the murky depths below after praying at a neon lit altar. They had hourly shows, from 7:30-10:30, and we caught the last two. Apparently these crazy kids have been at it since 1934, without one fatal accident.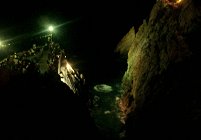 It was pretty amazing, but the highlight of this particular jaunt was dancing to what appeared to be the Mexican equivalent of that cheesy lounge duo from Swingers performing a number of American oldies, mostly from the 70s, en espanol. Of course, "My Way" was in their repertoire, as it is for every Mariachi band we encountered down there, since it has become a Mexican standard (in fact, Monica saw a local Mariachi band, Los Halcones, singing this song at Yoshi's and so hired them to perform at our wedding!). Monica and I danced over the crashing surf. And inside the restaurant, whose walls were covered with movie star signatures scratched into the wood, was Frank's autograph.

There were also lots of pix of the Chairman, with Sammy and Ava, along with other celebrities who'd visited over the years, but not one reference to Elvis, the reason we were there to begin with, or had even heard of the famous cliff-diving tradition. I asked the bartender and he replied, in a touchy tone, "He was never even here." True, Elvis shot all of his Acapulco scenes against a blue screen. They seem to hold this against him (the tour guide was equally cool about the topic). I didn't bring it up again.
We also took a grand tour of Acapulco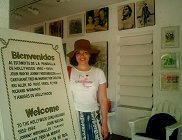 with this cat Oscar, a native of the city, who took us all over the town, just us and him in a van, explaining how it was divided into four parts: Acapulco 4 was where the resort was, Section 3 was most of the main strip, Section 4 was uptown a bit, and Section 1 was the old part of town, where we had lunch at this really cool little old hotel tucked away in the hills called The Flamingo, once co-owned by Johnny "Tarzan" Weismuller and John Wayne.
Oscar took us to the top of a mountain where there was a shrine and cathedral called La Brisa, from which you could see the whole city.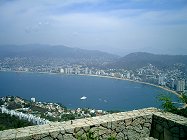 It was built over thirty years ago by the owners of the Hotel Las Brisas after their sons died in a plane accident. I'll never forget sitting in that chapel as he calmly relayed the sad story to us.
The highlight of the trip was when Oscar took us to the Central Market to help me find a real Santo mask, another reason for our journey.

We found one – plus a Blue Demon – but there was one hitch: they were made for kids. Oscar actually waited with us for half an hour while they customized the Santo mask for me! Across the alley was an amazing poster for an old (or recent?) lucha libres event featuring – Santo. (Later, in Guadalajara, we found a full sized, authentic silver Santo mask, too – on my birthday. But this first one will always be special to me – and I'm sure to Oscar, too – because it was custom tailored!)
Oscar took us along the Cliffs at La Perla again for a daytime view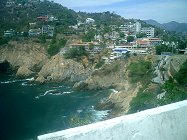 and then the next day we headed back into town to have dinner at the Bellevista Restaurant at Las Brisas, a famous old school hotel which was featured in the Matt Helm flick The Ambushers (1968), starring Dean Martin, and it still retained that swingin' vibe.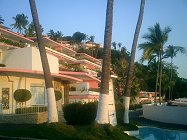 (In fact, for the trip, I bought my paperback copy of Donald Hamilton's 1968 Helm novel The Menacers, which apparently was the inspiration for this movie, not the novel of the same title, since in this one, Matt Helm tracks down flying saucers in Mexico, just like in the movie.) The hotel is made up of private cottages, each with its own swimming pool. I fell in love with the Fairmont Princess on line (and in person), but we will definitely stay at Las Brisas next time we visit Acapulco.
The restaurant, Bellevista, reputedly had the best view of the city. It did. First we sat and drank in the swanky, 60s' Shag like bar….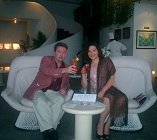 …watched the sunset….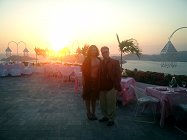 and then dined into the darkness, overlooking all of Acapulco Bay, twinkling beneath us like fireflies having a fiesta.
The next day, I decided I wanted a more up close and personal view of the Bay, so we took a bus into town, got off on the strip, and took in the sights. Lots of bars, KFC's, Burger Kings, Blockbusters, clothes stores, people, construction, sidewalk shops, tourist traps, hotels, and traffic. Sort of like a cross between the Sunset and Vegas Strips, minus the glitz, at least in the daytime (at night it's wall to wall cruising cars, shoppers, revelers and drunks). Nothing special, really, though I did have our one encounter with Tiki in Mexico, at the Bali Hai Hotel: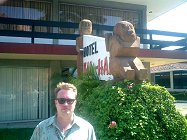 Then we decided to walk down to the water. Monica was wading ankle deep, carrying a bag containing all of our traveler's checks and other important items – like Barry Gifford's contact info in Mexico City – when out of nowhere the tide came in and she was literally swept away, I meant I couldn't even see her. As the waves lapped over her and the vicious undertow sucked her down again and again, all I could see was her hand holding up the bag. I grabbed it, then her hand, and pulled her ashore. The poor thing was covered in sand, mud and seawater, which she literally poured out of the bag, like a cartoon. We expected fish to be flopping out of it. Fortunately, not many people were around to witness this embarrassing spectacle,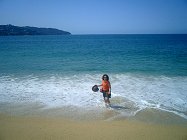 or the sexier sight of Monica putting on my shirt and shedding her soaking clothes, including bra and panties. We waited a bit for her to dry off before we headed back up the strip for a drink. Here is the photo I took right before she got sucked into the surf:
Damn, it was freaky. We left Acapulco the next day.
MEXICO CITY BLUES
The five hour bus trip from Acapulco to Mexico City was very, very comfortable, except for one thing: I had to endure Eddie Murphy's Pluto Nash, a movie I had never planned to see, for two of those hours, since when they played the movie, it wasn't like on a plane where you could tune it out, because the sound wasn't piped in via headsets, but over the whole sound system. At least it was in Spanish. I pivoted between staring at this and digging the outside scenery, which was sort of California with a dash of Nevada, but peppered with ancient villages that looked bombed out but which were fully functional. One of them had an Office Max smack in the middle of it. In fact, the clash between old and new was never more jarring to me than it was all over Mexico, where American culture had spread like a virus. Scooby Doo 2 signs and billboards were everywhere, and Sponge Bob was very big down there, everywhere we went, but this stuff somehow didn't quite blend in with all the colonial architecture and Third World ambience. Pluto Nash really did seem like he was from another planet – here to invade, and spoil. You can't seem to escape from bad modern American pop culture these days, no matter where you go. This was supposed to be a vacation, damn it. The best thing about Acapulco is most of the tourists there were Mexican, then Canadian. You could pick out the few Americans because they were the loud, obnoxious assholes wearing T-shirts with the American flag on them. No wonder other countries hate us so much.
We'd received a lot of warnings about Mexico City, besides don't drink the water. Don't take any cabs not called by your hotel or that you arrange at the bus station. Don't walk around with jewelry. Don't walk around after dark.
I was pretty intimidated by the time we got there, but really, it isn't any more menacing than New York, which has a similar vibe, though Mexico City is much more spread out, like LA. Its blend of cosmopolitan culture, rich history, and utter urban chaos (you never saw so many Volkswagens, here and in Acapulco) was compelling, but not conducive to a relaxing vacation. The place where we stayed was in the center of the historical district, and we chose it for its name – the Hotel de Cortes, like Monica's surname (and my middle name). It was a 16th Century monastery or something taken over and converted by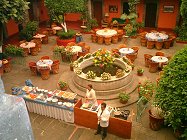 Best Western. It was pretty nice, actually, all the rooms surrounding a very charming courtyard
There was also a very cozy restaurant and bar on the premises, but the room itself was very small, we couldn't drink the water, and the toilet couldn't handle paper, so you had to fill up the trash can with your poo poo paper. We didn't spend a lot of time there.
The next morning we boarded a bus for the Aztec Pyramids, about an hour outside the city. On the bus we met a very nice, cool, friendly English lady named Val, who proved to be a great travelling companion for the day. Outside the pyramids, there's a little store where you get a mini-tour of the many relics from the ruins, a lecture on the many innovative uses of a cactus plant, and basically a sales pitch to purchase stone idols and the like. (I did buy an Aztec God necklace to go with my many Tikis – try wearing this, Greg Brady.) Then before we hit the steep steps of the Temple de la Luna and the Temple del Sol, we were taken through this museum that contained many fascinating artifacts from the Aztec civilization, including the stone head of the great bird god Quetzalcoatl (which is my brother in law's name)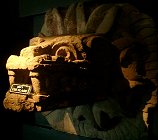 and some skulls and bones of some ancient warriors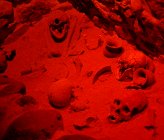 Then we headed out to wander around the pyramids, in search of La Momia.
It was quite an experience. But I didn't find La Momia de Azteca. He's still on the loose somewhere.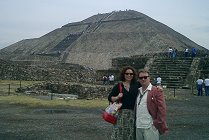 Wrestling women, stay on guard. Monica did meet a bunch of Indian schoolgirls who were quite enthralled with our camera, jewelry, and English. They were way off the cute-o-meter.
So we couldn't hook up with Barry Gifford here, since his contact info had been swallowed up by Acapulco Bay, the one real casualty of that dip, ironically, so instead we just wandered around the area surrounding our hotel,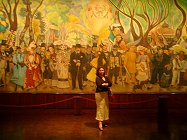 which was kind of like the civic center, lots of museums and hotels. We checked out Diego Rivera's big, famous mural
but the biggest score I made down there was in this little LP shop. Rifling through the bins, I found my sonic Holy Grail – the soundtrack to the Hawaiian Eye television show, with a Spanish cover, yet, and for only 35 pesos (that's 3.50 US, gringos)!

I would've paid my god damn eyeteeth for this thing if I'd found it in the States, and here it was, in an obscure Mexico City record shop, subversively sandwiched in between Top Gun and Flashdance, in perfect shape, for pocket change. Also there I found this nifty original 50s rock n roll album by some crazy Mexican band doing covers of Elvis tunes, etc., and probably about as authorized as the bootleg DVDs of The Passion of the Christ stacked on every street corner. Then next door to the LP shop was this video store where I found three Santo movies on tape that have never been available in the US – En El Hotel de la Muerte, Contra El Cerebro Diabolico, y Contra La Mafia Del Vicio. And yes, they play on America VCRs. This helped make my whole trip. It also made me feel like I was back at home, blowing my dough on music and movies, as usual. Even the clerks in these stores were the High Fidelity type geeks you find here. Some things are just universal.
I was having a blast, but beginning to miss home, too. We were over halfway there by this point.
When we boarded a bus to Guadalajara, for the last leg of our journey, I was feeling somewhat nauseous…
GUADALAJARA-A-GO-GO
I know what you're thinking: we only picked Guadalajara – not because it's the center of Jalisco, the birthplace of most Mexican culture, including tequila and Mariachi music – but because Elvis sang the traditional song at the finale of Fun in Acapulco. But you're only partly right. The main reason was because Monica has relatives there,

in the serene suburb called Tlaquepaque, that she hasn't seen since she was ten, including her grandparents on her father's side. Her great grandfather was a famous poet down there, and in fact, there's even a street named after him, Alfredo Plascencia.
In Guadalajara we stayed at the very comfy, cozy and colonial Hotel de San Francisco Plaza, en El Centro.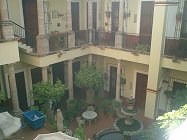 It was another converted monastery or something, with rooms surrounding two courtyards this time, but it was much nicer than the Hotel de Cortes, because you could drink the water, the bathrooms were bigger, and the cable TV was unbelievable! Not only did they have lots of US channels in both languages, but they had the Mexican equivalent to TMC, called De Peliculas, featuring classic Mexican movies from the past century, with the accent on 50s, 60s and 70s, plus they had Boomerang, the offshoot from Cartoon Network that has a lot of rare 60s/70s stuff from Hanna-Barbera, which for some stupid reason is not available here in Oakland. (Back in Acapulco, the Fairmont Princess had surprisingly limited cable, and the US affiliates were all from Detroit, so we could keep up on the action in Michigan from our Acapulco hotel room, though it was fun watching Spider Man and Bugs Bunny – "El Cornejo Suerte" - en espanol.)
I was feeling pretty ill by this time. On the grueling, seven hour bus ride here from Mexico City, I made many trips to the on board bathroom, not a pleasant experience. I obviously had the ol' Montezuma's Revenge, but I still don't know the source of it. What made it worse was that since it was such a long trip, they showed TWO stupid American movies, in English with subtitles, which were even more nauseating than Pluto Nash: 10 Ways to Lose a Guy, or something, (more like "10 Ways to Lose Your Lunch"), with Kate Hudson, which was really vomit inducing, and then Universal Solder 2: The Return, with Van Dam Claude Van Dam, or whatever the fuck his name is. I guess they picked the absolute worst "chick" flick and "guy" flick they could. That's okay – but don't Mexicans make chick flicks and guy flicks anymore? That would've been much easier to take. As it was, I felt I was being tortured. If only I could've convinced them to play one of my Santo movies instead. This trip was definitely the low point, but it was worth it.
The next day was my 41st birthday.

I woke up to Monica bringing me a little cake, singing happy birthday, the sound of birds singing in the courtyard, and the sudden urge to take a big, wet dump. The rest of the day was magical. Guadalajara turned out to be our favorite of all three cities, much to our surprise. It has a very laid back, Bay Area like ambience, and the weather was perfect, in the low 70s, breezy and cool – much like here, in fact, this time of year. The people are very nice (as they were everywhere we went, really), and also the best looking specimens, male and female, I encountered down there. You can feel the freedom in the air, too, in contrast to the frenzy of Mexico City. There was a lesbian bar right down the street from our hotel called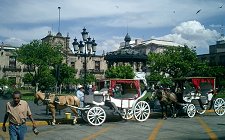 Flama Latina, and in fact, as soon as I got out of the cab in front of our hotel, two transvestite hookers tried to pick me up. It sure felt like home, only better. They had Boomerang.
We spent the day wandering around the many quaint plazas.
In one, we came upon an outdoor photo exhibit featuring blown up stills from classic Mexican cinema. '50s pop tunes rang out from the gazebo.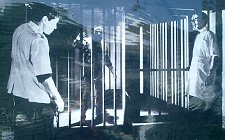 It was already one of my best birthdays ever – as long as I knew there was a bano nearby. We hung out in shops, cafes and museums and I picked up another, even better Santo mask, then we went home and on the TV was an old Mexican wrestler flick called Huracan Ramirez, which I've had a postcard of on our fridge for a long time.

Life felt good, and I was feeling better, too.
That night we had dinner in a joint called Sandy's, and Monica arranged to have the one-man band sing Happy Birthday to me, Mexican style. The waiter told me that in Mexico, "41" means "gay." I told Monica I'd try to fight it.
The next day, our last in Mexico, we visited Monica's relatives, none of whom spoke English, in Tlaquepaque,

who took us on a tour to the local city center where there was a plaza full of mariachis:
Then it was usual family reunion stuff, but with a twist: Monica's very colorful grandfather Jaime read us some of his father's famous poems, in Spanish, with Will Smith's Fresh Prince of Bel Air on the TV in the background.

Time to go home now. We went out to a couple of bars that night, and said our farewells (por ahora) to Mexico.
This was the last (of 350) photo I took there, in a bar.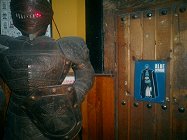 Muy bien, no?
WELCOME BACK TO AMERICA…..(?)
Before we even had a chance to unpack, our landlord slapped us with an illegal eviction notice. It's a long, sordid story and he has no legal leg to stand on, but we have to deal with it. Bottom line, for anyone who lives and rents in Oakland, you need to know your rights as a tenant under the Just Cause Ordinance:
Our landlord is either feigning ignorance of this law, or else he is committing judicial suicide with his insidious agenda, which would leave us out in the cold, except for one thing: when you fuck with Will the Thrill, you're really stepping into the ring with….
In any case, this mess should be resolved by the time I update this column. We came home from Mexico only to face a fraudulent eviction with ulterior motives. Now I feel like a real immigrant. Stay strong, mis hermanos y hermanas.
MAY IN THRILLVILLE: "CURSE OF THE STONE HAND" & "SHOCK WAVES"
On May 13 at The Parkway, I am hosting a true rarity: CURSE OF THE STONE HAND (1946/59/64), produced by the infamous Jerry Warren, infamous for buying old foreign films and patching them together for "new" releases, sloppily re-edited and poorly dubbed. For this one, Jerry spliced random scenes from an old '50s Mexican suspense flick, an old '40s Chilean horror flick, and added a few hastily filmed US scenes with poor, confused John Carradine. I've never seen it, but with a description like that, how could I pass it up once Uncle Bill told me about it, especially when it's in 35mm? See it here or see it never.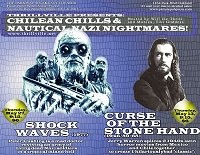 On May 27, also at The P'way, and also from Uncle Bill, it's one of the greatest drive-in flicks of the '70s, SHOCK WAVES (1977) perhaps the best of the Underwater Nazi Zombie genre (yes, there is one), featuring Peter Cushing as a mad doctor conducting weird experiments and raising the SS dead buried underwater in a sub or something, terrorizing shipwrecked castaway on a remote tropical island. Good, eerie fun for all.
On May 8, we will also be down in Uncle Bill's stomping grounds, Palm Springs, hosting a special Thrillville road show "poolside dive-in" at the Caliente Tropics for Tiki Oasis IV. Details and pix in the next column.
JUNE IN THRILLVILLE: "IMPULSE" & "SHANTY TRAMP"
In June at The Parkway, courtesy of The Werepad (I am bringing back my two ALL TIME GREATEST THRILLVILLE HITS, just for the heavenly hell of it:
On June 10, for my ANNUAL TRIBUTE TO WILLIAM SHATNER, it's his all time classic pimp/serial killer/ disco daddy with flashbacks masterpiece, IMPULSE (1974), co-starring Harold "Odd Job" Sakata and directed by William "Sting of Death" Grefe. This is THE ULTIMATE SHATNER, and must be seen to be believed. Also on the bill, as usual: Big Bill's rendition of "Rocket Man," and more, if you can stand it, even if you can't.
Then on June 24, it's the long awaited return of that sleazesploitation masterpiece SHANTY TRAMP (1967). I can't remember the name of the female star, but I clearly recall her running around naked for half the movie hacking people all the Deep South up with a knife, every time they make a move on her – which is often. Her unlucky suitors include a preacher and her own father. There are also some socially conscious stabs, so to speak, at statements about racism, in an attempt to justify the sordid sex and violence on screen, but whatever, this dimension only adds to its unique sense of style and squalor. Again, it must be seen to be believed, and even then, you will doubt your senses. This is always my ultimate goal here in Thrillville, and with these two films, my aim is true.
Oh, by the way, before I go (and gracias for reading this far, unless you only skipped down), our Acapulco tour guide Oscar told us the origin of the term "gringo." Back during Pancho Villa's revolution, the American soldiers all wore green, which, pronounced with a Spanish accent, is "grin." The natives wanted them to "go." Grin-go. Gringo.
I go now.
(For more photos of Mexico, see SCENES, pg. 20)
COMING IN JULY:
GODZILLA & GAMERA RETURN!