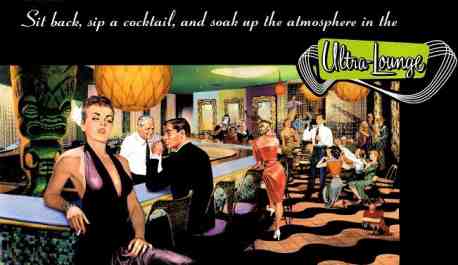 By Will ("The Thrill") Viharo
CLICK ON THE SCHEDULE LINK AT LEFT FOR COMPLETE SHOWTIME INFORMATION
THIS MONTH:
THE R.I.P. LOUNGE; THE FUTURE OF RETRO; SPACE AGE SWINGERS; & ARACHNID ANARCHY!

nevitably, 2002 has been a sad year for lovers of Lounge and B movies. Thrillville continues to thrive, but several artists and icons who give it a reason to exist have passed on, within mere weeks of each other:

JUAN ESQUIVEL - The godfather of space age bachelor pad music.

ARTHUR LYMAN - one of the great gods of exotica.

MISS PEGGY LEE - she will always give us "Fever"

JOHN AGAR - a giant of the genre film, star of such timeless titles as Tarantula, Revenge of the Creature, The Mole People, Attack of the Puppet People, and The Brain From Planet Arous - to name a few.
The year's not even half over yet.
What do they all have in common? Style=personality=distinction=longevity.
A moment of silence, please, to honor their memories.
Of course, I can't actually hear any of you anyway. And unless you murmur these words as you read them, you were probably already silent. We can still collectively pay tribute to these icons, and others, like Uncle Miltie, and thank them for making the troubled, complex modern world a more beautiful place to live in.
There are still some great musicians of the classic era alive - and kicking. Keely Smith, Rosemary Clooney, Eartha Kitt, Lou Rawls, Tom Jones, Nancy Wilson, Tony Bennett, Steve and Eydie. And even some great B movie stars still share our humble air: Yvette Vickers, Mara Corday, Robert Clarke (at least as far as I know.) But as the 20th Century recedes further and further into memory, to live on only in our collective memories or in some digital format, the icons of that century are passing away, too.
This century is still pretty young. The new icons have yet to reveal themselves - or even be born yet. But it's hard to imagine that the sheer talent, passion, personality and style that made the above names and many more so memorable will ever be replicated, given the current state of mass-celebrity-production and ever-shortening attention spans.
For people like me, who identify themselves as lovers of "retro culture," I wonder just how tiny a minority we will become in just a couple of years. It was during the '90s that the mass market media caught wind of and exploited an underground "movement" dubbed "Lounge," which really began when record collectors in the '80s rediscovered previously discarded musical forms once popular in cocktail lounges. Then ReSearch, published by our pal V. Vale, gave us The Incredibly Strange Films and Incredibly Strange Music books, and they became our guides to buried pop culture trash-treasures. As the first punk generation (mine) aged, they went Swing, and the next generation of teenage malcontents took over their rebellious dissonance and turned it into Grunge. What could be more cutting edge and outrageous in the new world of abrasive rap and discordant rock than old-fashioned Melody? The Cocktail Nation was born. And with the success of Pulp Fiction, the retro scene threw a net over everything from pin-up art to Googie coffee shops to tikis to vintage paperbacks to drive-in movie culture, from flying saucers to blaxploitation. Rockabilly guys and dolls discovered the Rat Pack, and Brian Setzer melded rock 'n' roll with big band swing to create a popular hybrid that blew all boundaries. I was basically oblivious to a lot of this as it was happening, even though people like me were the target audience. Now I kinda miss it. But not really. It's not like I get out that much anyway - or pay attention to whatever the hell is going on now that my once minority-then-trendy passions have once again become passe in the popular consciousness.

ut where are the retro scene-makers now? Though I continue to see retro-images in advertising and even some current fashions, MTV and the Gap have long since moved on. Magazines like ATOMIC (to which humbly contribute) are still flourishing amongst the underground retro cult, but are fewer and further between. Also, the term "retro" has now come to include the '80s, and soon, the '90s. At the peak of the '90s "retro movement," the postwar period (roughly D-Day to JFK's assassination) was the main source of nostalgia. Gradually the '70s crept in (once the antithesis of all held cool and sacred by the first retro crowd), and as time goes on, it's all becoming retro. Retro is losing its initial identity as the term expands to include other subcultures from all other previous decades. That's fine, but how do I identity myself now? At least no one can accuse me of jumping on any bandwagon. Like many people who gave the retro/lounge "movement" juice, I was into this "old stuff" long before the media marketed it under those catch phrases, and will no doubt continue to be drawn to that specific lifestyle long after it has ceased to exist as an identifiable subculture or marketing tool. Which is already happening. Does this give me an identity crisis? Not at all. In fact, it makes Thrillville stand out even more.
Most of the people who attend my shows don't seem to belong to any particular subculture, much less the retro demographic. They dress like everyday folks. I do attract punkers, hipsters, and all around freaks - but by and large, they're just average film buffs with a Thursday evening to kill. Coming to Thrillville is not like making a "scene" by any means. It never has been. In fact, the eclectic nature of the crowds - whose one common denominator is beer - is what continues to draw me up to the stage, as sick of that as I get sometimes.
I don't know how much longer a vintage cult movie showcase like Thrillville can go on. Right now, its continued success continues to surprise me. And gratify me. Especially when rep theaters are closing right and left (the Roxie seems to have scored a temporary reprieve, and good for them.) Eventually, Thrillville will have to evolve with the times. Or not. I might just have to find another venue for my peculiar obsessions one day. And I'll know when that day arrives. Hopefully by then I'll be ready to retire in Hawaii anyway. Life has a way of working itself out, I've discovered quite by accident. I'm not worried. I'll always be the Lounge Lizard King of Thrillville, and Monica will always be my Tiki Goddess, whether we're on public display or not.

've said it before and I'll say it again: the book that changed my life was a publication called CAD: A Handbook for Heels, which came out in like '92. It was a nouveau 50s-style men's magazine. I wanted to be the kind of guy who read stuff like that. An old-fashioned man's man: hard-drinking, stylish, tough and sexy -but with politically correct hindsight, and a healthy sense of humor. This was the genesis of my controversial "Will the Thrill" public persona. Marrying a real life pin-up doll curtailed my budding space age bachelor lifestyle, but hey, no complaints here. I wouldn't be the man I am without her.
This month at The Parkway I am proud to present two prime examples of vintage macho - when men were men, and women loved them anyway. Whatever that means.
First is the celebrated film noir masterpiece from 1955, Robert Aldrich's surreal, innovative adaptation of Mickey Spillane's KISS ME DEADLY (May 9), with Ralph Meeker perfectly cast as hardboiled dick Mike Hammer. Ralph used to date my stepmom, Anne Helm, when she was only a teenager! He was quite a character. He aged fast (check him out in 1968's The Detective, with Sinatra - he's barely recognizable), probably from hittin' the bottle, but no matter. This film - which Spillane himself despised since it was far too revisionist - immortalized Meeker. It also influenced everything from Repo Man to Pulp Fiction with its mysterious glowing suitcase. And check out what may be the very first answering machine! If you've never seen it before, you owe it to yourself to check it out. It's cynic-cinema at its finest. I am already programming The Parkway's Fourth Annual Film Noir Fest for September, so consider this a sneak preview of dark things to come.
On the lighter and brighter side is my encore presentation of 1966's THE SILENCERS (May 23), starring the one and only King of Cool Dean Martin as suave super-spy Matt Helm, and co-starring our pal Stella Stevens (still sexy as hell) in one of her best and funniest roles as his ditzy gal-pal. This was the first in a series of four Matt Helm spy spoofs (all funnier and more stylish than Austin Powers, in my book), made at the zenith of '60s secret agent-mania, and the only one currently available in 35mm. The print should be as luscious as Stella This rarely screened flick is a martini for the eyes, full of colorful sets, villains, babes, and random Sinatra references. If you want to know How To Be A Space Age Bachelor, consider this the celluloid primer.

am Raimi's Spider-man comes out this month, and I can't wait. Well, I've already been waiting, for almost thirty years. I grew up with Spidey. It's going to be a big hit. You'll see spider-shit everywhere. In fact, there is a movie called Eight-Legged Freaks also coming out that is a throwback to the giant spider flicks of the '50s. So the time seems right for a spider-themed program in Thrillville. And I've got just the time and place for it.
Copia, Napa's new center for wine and the arts, has been making big splashes in the news lately, and deservedly so, it's an astounding resort; but before I even heard of them, Entertainment Director Richard Miami was a regular Thrill-seeker. A while ago he got in touch with me and asked me to host a Thrillville program at Copia, whose weekly film series is already a hit. He thinks the folks in Napa are starved for B movie culture, and I'm happy to oblige. I'll be hosting Buzz Bob Ekman's 16mm print of the Bert I. Gordon's 1958 AIP drive-in classic EARTH VS THE SPIDER , the one about teenagers and a giant tarantula, plus a plethora of drive-in snack ads and trailers, PLUS the ultra-hot Joi Lansing scopitone Web of Love, from the cosmic collection of Planet X publisher Scott Moon. Also on the thrill-bill: Robert Silverman performing his thrilling theremin live for the wine-sipping masses! AND I'll be giving a special discourse on the History of Scopitones earlier in the day. (See copia.org for more details.)
When does this indoor drive-in spectacular at Copia take place, you ask? Friday, May 31 - my one-year wedding anniversary. We'd rather be returning to Hawaii, for good, but this is the next best thing. Hope you can come up and celebrate with us, make a weekend out of it, even, in classic, timeless style. Cheers.
NEXT MONTH: SWORD & SCANDAL!
Please see SCHEDULE link for
updated ticket and program info
Get the COMPLETE SCOOP ON THE PROTEST
- and my entire lifestory in general -
in SILKE TUDOR'S SF Weekly column
"Nightcrawler"
---