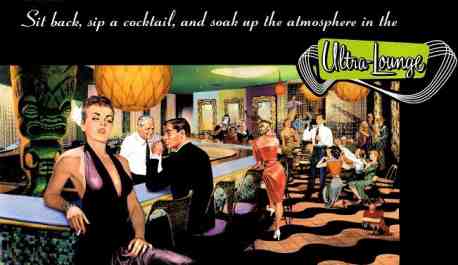 By Will ("The Thrill") Viharo
May 2001:
(click on Schedule link at left for movies and showtimes)
A Blood Feast, a Bachelor Party and Bettie Page

s of May 31 I, Will the Thrill, am a swinger no more.
Well, I shouldn't really say that. I'll just be swinging on a leash - happily. Monica, Tiki Goddess and I are tying the proverbial knot at the Cal Neva Resort and Casino in North Lake Tahoe on that date, exactly four years from the day we met, at 6PM, with a reception in the Frank Sinatra Celebrity Showroom. Frank used to own the Cal Neva in the early 60s, the Rat Pack's heyday, before he had his gaming license revoked for consorting with mobsters (gimme a break). Our wedding is sweet revenge - it will be a Rat Pack themed celebration in and of Frank's place, and I am burning all the CDs myself, so there's positively no chance of hearing the usual wedding soundtrack sap like "YMCA" or "You Light Up My Life" or "Play That Funky Music White Boy" at MY blissful shindig. I told the poor DJ to just leave his entire record collection at home, all he has to do is push buttons. Our first dance songs as a couple will include "Can't Help Falling in Love" by Elvis, "The Best is Yet to Come" by Frank, "More" by Bobby Darin, and "That Ol' Black Magic" by Louis Prima and Keely Smith. Our minister will be our old pallie Robert Ensler, who will be performing the ceremony in his Dean Martin impersonator persona (see his site www.TheRatPack.net). We'll also have a full band of mariachis (whom we first saw at Yoshi's during a fiesta) doing Elvis and Frank songs, amongst the more traditional ballads of their native Mexico. Remember, the Tiki Goddess and future Mrs. Thrill is of latin heritage, by way of Union City, CA. She's also part Navajo. Part Valley Girl. All Goddess. I'll be taking her last name, Cortés (yes, descended from the conqueror), as my middle name. My middle name by birth is Christian, after Marlon Brando's first son, not the religion. Brando was my Pop's religion. He thought that by naming his kid after Brando, his acting career might follow suit. Didn't happen that way, but I'm still proud of him. Anyway, the point is my middle initial is C anyway. Monica said it's only fair that if she takes my last name - Thrill - as her new surname, I should take her last name as my new middle name. Sure, I said, whatever. Will Cortés Thrill, you can call me after May 31. Though she'll just call me Mr. Goddess.
As many Thrill-seekers who actually read this column know well, I met Monica at The Parkway's, at a midnight screening of Jailhouse Rock on May 31, 1997. I had my customary midnight crowd of ten people in tow, but luckily she was one of them. At that time I had just split up with my first "wife," a wham-bam-no-thank-you-ma'am affair which lasted all of six months. My first wife (we got married in a video store, in the comedy section, so consider the context) was also my first lovely assistant in Thrillville, then known as The Midnight Lounge. After we broke up I was pulling lovely assistants out of the audience to spin the Big Wheel and give out the prizes, secretly auditioning them as well. As lovely assistants. Not wives. Little did I know. Monica showed me her sexy tattoo (the word "Elvis" inside of a Navajo symbol), located on her right hip, and I fell in lust. She was with some big black dude, and I thought she was a biker chick. I was broken-hearted and didn't feel up to the challenge, so after letting her spin the wheel and giving her an Elvis blanket, I basically forgot about her. I may've whacked off thinking about her exposed hip when I went home and cried that night, but I can't really remember. A moot point now.
Then months later, on January 8, 1998, at an Elvis Birthday Party at the Ivy Room in Albany, a great little dive where bands as cool as the Saturn 5 and Davie Allan and the Arrows have performed, I was pretending to enjoy myself but was contemplating going home early. I was dating by this time, still somewhat wounded after my failed stab at matrimony, but nobody had really caught my fancy, and I was swinging solo that evening. Then who should walk in the door as I was standing there star-gazing but Monica. She remembered me right away. "Hey, you're the little guy who gave me that towel!" "Blanket," I said to myself. "Big guy." An hour or so later I gave her my phone number on the back of a picture of Elvis - I knew that would work. And it did. She called me two days later to see if I wanted to join her at The Paramount in Downtown Oakville for yet another screening of Jailhouse Rock. I said sure! She kind of reminded me of Scarface's (the Pacino version) little sister, and I was hot to boff her. So I went to the Paramount, which, unlike the Midnight Lounge, was sold out at around five thousand seats, packed with screaming Elvis fans - but she was a no-show. Whatever, I thought with resignation. Plenty of other broads to bang out there. But there was something about this one…I went home and there was a message on my machine - she had car trouble. She still has car trouble. Same car, different troubles. Only now it's our car. A few days later we met up at the original Stork Club (before it moved to its present location), had a few drinks, listened to Bobby Darin croon on the juke till some hippie bluegrass band showed up and they turned it off, then we split for my pad around the corner, where we consummated our passion which had been building up for hours. I think the line that seduced her was when I referred to my early days as a truck driver for Crown Electric. She's been my lovely assistant ever since.
Speaking of rudely interrupting jukeboxes, recently the impending Mrs. Thrill and I were at Fenton's Creamery on Piedmont Ave. enjoying some of their excellent confections and digging the tunes on their even more excellent juke. A while ago they ditched all the modern crap and stocked that baby chock full of classics, songs made just for jukeboxes, from big band to 60s soul and everything in between. I plugged in a fistful of quarters for a steady stream of Frank, Dino, Nat Cole, Elvis, Tempations, Marvin Gaye, etc. Then right in the middle of Tom Jones belting out "Delilah" this little guy who works there goes over and suddenly yanks the plug. If I were a mobster I would've shot him in the kneecap, or at least bitch-slapped him. You don't dis TJ that way! I was up on my feet like a bear. "Hey, I have like ten songs left I paid for!" I said to him with polite passion. Looking helpless and resigned he blamed it on a whole row of tables loaded with white bread chowderheads that had complained about the "noise." "It's called GOOD MUSIC!" I yelled at them. They ignored me nervously, thinking me some irritated wacko. "Play more Dean Martin" some babe yelled. "He's coming up!" I promised. I told the guy if people didn't want to hear good music, there were plenty of other places for them to go. Bad music was everywhere. But not here. And any place that has a jukebox should allow patrons to play it - that's what it's for. The guy said the volume was up too high and the remote didn't work. Tough, I said - nicely. Good music is never too loud, bad music is deafening at any volume, and I have to put up with bad music every time I walk down the friggin' street - some insecure buttcrack with the bass booming on his hip-hop, Britney Spears or 'N Sync whining in my skull. Fenton's was my refuge - outside of my home, and I swear, every damn time I leave home, I wind up in a similar situation. Why do I even bother to ever walk out my door? Pretty soon I won't, I'll fuckin' Howard Hughes outta this world, baby, hole up in my Thrillville penthouse. But in the meantime, I was there, the quarters were spent, and I wanted my music. And I got it, dammit. The music was plugged back in. I got a few cheers, and a few dirty looks - just like I do at The Parkway. Just another day in Thrillville.
Right after that I got an email from Mikey, a regular Thrillseeker who just re-opened Ozzie's inside the Elmwood Pharmacy at the corner of Russell and College. This is an 80 year old 50s style soda fountain/lunch counter that serves up classic American cuisine with vintage style, the very last of its breed in the Bay Area, a true blue Lana Turner kinda joint. Mikey is a great cook and has great taste in music to boot. In fact, I made him a bunch of tapes - Julie London, Keely Smith, Mancini, Martin Denny, Doo-Wop and more - to play in the background when he isn't playing his own Peggy Lee and Cugat or KABL 960AM, our favorite and one and only radio station. Last month I was bemoaning the loss of the Cloverdale Creamery in Fremont - and look what Frank does, he gives spiritual orders to have Mikey reopen Ozzie's for us, with the best grilled cheese sandwiches around. I know, because he gave Monica and I free meals as a wedding present, replete with real lime rickies. Dig it, people, and dig it often.
Anyway, speaking of eating, on May 10 at The Parkway I am presenting yet another regurgitated rarity from the astonishing archives of The Werepad - Herschell Gordon Lewis' original gore classic BLOOD FEAST (1963), which came out the year I was born. Two messy accidents people are still talking about today. This sanguinary sucker, the very first of its bloody breed, is almost more than I can stomach, even if it was filmed in two days for a buck seventy five - Lewis's fierce ingenuity and warped imagination influenced subsequent drive-in derelicts from George Romero to David Lynch. Normally I hate gory movies, I prefer graphic sex, but the whole point of Thrillville is to present classic exponents of our lost pop culture heritage, rescuing them from oblivion whether they deserve to be or not. HG Lewis is one of the greatest cult directors of all time, and this is his masterpiece, along with the even more revolting Two Thousand Maniacs, so I offer no apologies. Lewis started out with nudie flicks but when this cycle dried up he suddenly decided to offer more than just naked flesh - he presented it hacked up on a plate. The public was appalled - and couldn't get enough. HG had tapped into our darkest dreams and hit prurient paydirt. BLOOD FEAST, filmed on location in Florida, is about a crazy caterer who sacrifices the local mini-skirt population to an Egyptian goddess, so The Parkway's Egyptian motif will offer an eerily perfect showcase for the murderous mayhem, in living color! Plus we'll have pizza with extra extra extra tomato sauce on the menu, cheese and gore to go with the cheesy screams and splatter on the screen, so you can share the experience. Monica, who normally falls asleep soon after spinning the wheel, won't be at this show - no way she'd forgive me for making her sit (or snore) through this vomit-fest, even though it reeks of that early 60s ambience she loves. Actually, she will be in Walnut Creek performing in the Bay Area premier of Neil Simon's last play Proposals at the Dean Lesher Theater. It runs from April 26-May26, ending just a few days before our own nuptials. If you think Monica can only spin and sleep, check it out. The play, not our wedding, unless you were personally invited.
You are ALL personally invited to WILL THE THRILL'S BACHELOR PARTY featuring SPROCKET ENSEMBLE, MR. LUCKY & CONNIE CHAMPAGNE on May 24, two shows, at 7:30 and 9:30, advance &10 tix on sale at The Parkway beginning Sunday April 29. Sprocket Ensemble (http://sprocket.laughingsquid.org) is this amazing group of musicians that performs original compositions for an eclectic assortment of animation shorts, on both film and video. For this special event they are presenting their own musical accompaniment for a couple of Bettie Page loops, so she'll be my official "stripper." I love Bettie, even if she is a mainstreamed cottage industry now. She is the sexiest babe in Thrillville outside of my wife-to-be - or inside, for that matter. I collect Bettie stuff by the bushel, including original magazine covers. She oozes sensuality served up nasty or wholesome, for any mood you're in. And the beauty of it: she was just being herself, unlike today's models, who try super-hard to stimulate but leave me soft. Bettie was a WOMAN - not a neurotic waif, not a snooty bubblehead with the body of a ten year old boy, but a curvaceous slice of genuine cheesecake who didn't starve or aerobicize herself into a stick like today's malicious media dictates. Plus Bettie was the original dominatrix - she was no helpless victim of men's lust, she dished out the pain of love herself, on her own terms, I don't care what any uptight so-called feminists say. People who complain pin-ups exploit women insult the women who are the actual subjects, as if they're too dumb to know better. I think the real issue with the PC patrol is just plain jealousy. Bettie is beyond that though. She's an icon not only of her repressed (but cool) era, but also of her sex and race. A lot of the rare film on her you can now rent on tape or DVD came from these little 8mm loops they'd advertise in the back of men's magazines and sell through the mail. They were silent - the videos usually tack on really awful elevator music, but for my bachelor party, Bettie will shake her bee-yootiful booty to the beat of creative geniuses. I first saw Sprocket work their musical magic at 21 Grand in Oakland, and my pally Mr. Lucky was there also, presenting an amazing "Bacharach vs. Mancini" routine, switching off between their hits, doing them both classy justice. Mr. Lucky is ALWAYS Mr. Lucky, meaning he always looks and acts incredibly swank, but he is also an accomplished artist and poet (see www.mrlucky.org) and I am honored to have him sing at my show, the most historic meeting of two lounge lizards since Godzilla meet Ghidorah. Lucky makes even 80s pop songs sound loungey and timeless. Mr Lucky is Mr Incredible too. And local legend Connie Champagne - how did I get so lucky? I first saw her swing her thing with The New Morty Show at Bimbo's nightclub in SF a few years ago. What a doll! She has killer pipes and is a babe to boot. Any one of these major talents on a marquee would be a wonder - all three on the same bill is, well Thrillville, cats and kittens. Monica won't be at this show, either, since she'll still be doing the play and of course, it's my Bachelor Party (at least my public one), so I'll have Miss Champagne spin the wheel. But that's how I met Monica….
---