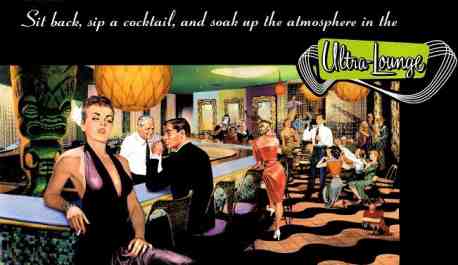 By Will ("The Thrill") Viharo
JUNE 2001:
(click on Schedule link at left for movies and showtimes)
Aloha Gidget, A Honeymoon in Hawaii, and The Devil-ettes on Wheels

n case you haven' t noticed, Life is strange, wonderful, ironic, and tragic, amongst other things.

This month I am celebrating the greatest Thrillville production of my entire life: my Rat Pack themed wedding to Monica, Tiki Goddess in Tahoe at the Cal Neva Resort, with a reception in the Frank Sinatra Celebrity Showroom, followed by a honeymoon in Hawaii
I've never even been off the mainland before, so this trip will be a truly an exotic experience. I couldn't be more excited. But my marital celebratory spirit is somewhat crimped by a sad, unbelievable fact, only recently a reality: I lost a dear pal of mine, Deborah Walley, to cancer. She was only 58. (See www.deborahwalley.com for a special note explaining her untimely demise - basically, she had a chronic cough for two years which her hippie doctor misdiagnosed as "allergies" and treated with holistic herbal medicine. By the time she found out she really had esophageal cancer, it was Stage 5, but she was valiantly positive and upbeat to the very sudden end.)
You may (and should) remember Deborah as everyone's favorite Gidget in Gidget Goes Hawaiian (1961). She was also in a bunch of classic '60s beach party flicks, including my favorite, Beach Blanket Bingo (1965). She was a special guest at the Thrillville book and calendar release party for Chris Strodder's "Swingin' Chicks of the 60s" (www.swinginchicks.com)last November, along with my stepmom, fellow Elvis babe Anne Helm (Follow That Dream). I showed an hour of Uncle Bill's swingin' 60s movie trailers, followed by a 35mm print of Spinout, in which Deborah co-starred with The King. The problem with this print, as I belatedly discovered, was that all the musical sequences had been cut out and stolen. I told people it was the Director's Cut (Norman Taurog) - he didn't want fans to be distracted by Elvis's singing in this version, rather they should focus on his thespian talents. People took it good-naturedly - after all, they had a rare tuneless Elvis movie, but they also had Deborah Walley in the flesh, in the house. If you blew off that enchanted event, shame on you. The turnout was downright pathetic, actually, which shocked me, though we had a good time anyway, and the few who attended will remember it forever (and are damn glad now they went). Where were all those phony Austin Power go-go wannabes? This was the real deal, and the place echoed with crickets. I felt terrible, even if Deborah did get to meet and schmooze with some of her lifelong fans, like my pal Karen from Stop the Clock in Berkeley (one of Thrillville's sponsors). But Deborah deserved a packed house for a truly fitting tribute - and little did we any of us know this would be one of her final public appearances. I feel even worse now that Deborah has left the building for good, swinging with The King again in the big beach party in the sky. If you had planned to come see her that special Saturday night at The Parkway, but decided you had better things to do, I hope you feel like shit now too. I really do. You blew it. When I have these older movie star guests you gotta do what you can to make it, Thrill seekers. Just put off that lawn bowlers meeting, forget yet another empty house party, tape that lame-ass "new classic" movie on TNT, drink coffee and stay up, 'cause you just never know. First Spinout was sent to me missing all the music footage. Now Earth is missing Deborah Walley. The remaining vestiges of that forever cool, unforgettable and influential era are vanishing at an alarmingly rapid clip. All we have to look forward to is the rest of the ho-hum 21st Century (except here in retrofitted Thrillville). I miss Deborah terribly. She was a very special lady. Say a prayer for her, I don't care who you pray to. And if you don't, start. Just this once.
Anyway, now that I've bummed you out like totally, putting you in touch with your own mortality, let me switch gears to a more uplifting topic: my honeymoon. (For details on the wedding, see last month's column in the Archives link). Fact is, as of this writing, I've haven't actually gone to Hawaii yet. I'm not even married yet. I get happily hitched a week of so after I finish this column. By the time you read this, though, I'll be well on my way, maybe even over and done with it all, an old, tan married man with his own private lei for life. I'll have to give you all the delirious details in my next column, how it all happened, what went down, what went up: the mariachis belting out Latin versions of Sinatra and Elvis songs; the Dean Martin impersonator marrying us; the open martini bar; the culturally mixed congregation; then the big trip to Kauai and Oahu. One reason we chose Hawaii is Elvis: Blue Hawaii (1961) was filmed on Kauai (we're taking the official E tour), and that movie looks like a dream. Plus I love tikis - and I'm marrying the Tiki Goddess. So we'll go tiki hunting in the motherland, but after my disillusioning trip to Vegas last year, I'm not going to expect too much of what I've seen in the movies. People tell me I'll love Hawaii though, which must mean there is more of old Hawaii left than there is of old Vegas. Hopefully the ghosts of Jack Lord and Martin Denny will escort me through paradise. Besides tiki hunting in Island thrift and novelty stores, my idea of a safari, Monica also wants to go scuba diving, helicopter riding, and hiking. Me, I simply want to drink lots of umbrella drinks watching Don Ho croon "Tiny Bubbles" in person. If I get that much, I'll be happy (outside my hotel room, that is). I'll let ya know.
Along with my stepmom Annie, another Elvis babe will at our well-attended wedding (it'll be like a sold out Thrillville show, on the road in Tahoe, though): our beloved buddy Julie Parrish, who co-starred with The King in Paradise, Hawaiian Style (1966). Julie also played the girlfriend of the guy who owned the diner on Beverly Hills 90210. She was in a bunch of things, actually, but mainly I'm just glad to have her in our lives. We'll have a number of famous and semi-famous babes at our wedding. But I'm marrying the prettiest one.
Deborah was planning to be at the wedding, yet another cinematic Hawaiian connection. But we'll think of her often and fondly while we're visiting her old surfing grounds (and new "haunt"?). I plan on watching Gidget Goes Hawaiian before I go Hawaiian myself.
When we return from Hawaii, I have but one Thrillville gig lined up, on June 21, but it's a doozy: The Thrillville Honeymoon Show starring San Francisco's delectable dance troupe, THE DEVIL-ETTES! There are two shows that night, at 7:30 and 10PM, and advance $10 tix go on sale at The Parkway (www.picturepubpizza.com) only beginning Sunday, May 27, my final weekend as a bachelor. In case you don't know about The Devil-ettes, get your head out of the sand and check out www.babydoe.net These gals are the modern day equivalent of a raunchy Vegas revue combined with the Rockettes, but with their own unique style. They dance originally conceived choreography to classic 60s go-go tunes, with colorful costume changes, and every one of them is a devilish delight. They have names like The Catholic School Girl, The Temptress, and The Sex Kitten. But you may know all this already, even if you never leave the East Bay. The Devil-ettes performed at my now-legendary Tiki-sploitation event in December of 1999, co-hosted by the iconic Otto Von Stroheim (www.tikinews.com) who is now luckily married to the leader of the Devil-ettes, Baby Doe. And what better film to show with these demonic angels once again gracing our stage than Herschell Gordon Lewis's cheesy, violent, lusty drive-in classic from 1968, SHE DEVILS ON WHEELS! It's all about a wild gang of horny biker babes called The Man-Eaters who ravish the local male population when not out riding in search for a rumble. You may have heard their anthem, "Get Off the Road," covered by various garage rock bands over the years. But you've probably never seen the actual movie, at least not on the big screen. The only reason you can now is due to the exhaustive efforts of the folks at THE WEREPAD (www.werepad.com) - this is yet another of the astounding archival acquisitions, in beautiful lifelike color! And bring your bikes - a select few will be brought inside The Parkway to park along the stage so we can witness these amazing events in glorious Bike-O-Rama!
So until we meet again, Thrill seekers, when I am the official Mr. Tiki Goddess, just remember these three little things: Bring your hogs and horndogs to Thrillville June 21! Get off your lazy cynical ass and go find the love of your life and marry him or her, or at least live in sin, the operative word being live! And quit smoking!
NEXT MONTH: The Official Wedding and Honeymoon Report;
Dolemite vs. Infra Man on Planet X
---