By Will ("The Thrill") Viharo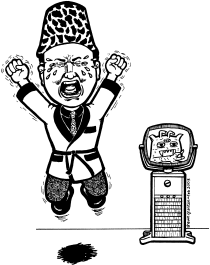 THRILLVILLE BEAT
By Will "the Thrill" Viharo
JULY/AUGUST 2005:
HOLLYWOOD/PALM SPRINGS ROAD TRIP REPORT; THE SHATNER 'IMPULSE': I JUST CAN'T HELP IT; THE RETURN OF THE DEVIL-ETTES
EMBRYONIC, OR JUST MORONIC?
Lot of talk from our president these days about nurturing a "culture of life." As usual, his logic confuses me, since he resists extending crucial stem cell research on the one hand, but sees no problem with declaring war and causing thousands of innocent deaths on the other. Hm. His argument against stem cell research is he doesn't want to destroy life in order to save it, though by that same reasoning, that's exactly his justification for launching a war against a country that never attacked us. Just like people who are pro-gun and pro-death penalty, but anti-abortion. I don't get it. Never will. I give up. A lot of people don't get me either, so let's call it a day already. I'm tired of trying to figure all this shit out. The loonies are running the asylum these days, it's all I can do to just stay out of their way. I'm too busy preserving my own culture of life. Just discovered a great old school steak, seafood and martinis joint here in Alameda called the Gold Coast Grill. Monica and I have been enjoying biking around the Island on our new cruisers. This is the type of culture of life I like to cultivate. And I'm all for unlimited stem cell research, too. I have a friend with ALS. He needs all the help he can get from this research, and fast. All scientists and politicians out there: please help him if you can. His life is a culture well worth preserving. Meantime, let's all just live our little lives and stop bickering, damn it!
THANKS TO ALL YOU THRILL SEEKERS....
For writing in and offering your feedback and support after I wrote last time how I was suffering from the Eight Year Itch, openly considering canning this column for good. But after all your kind, thoughtful, intelligent, compassionate and just downright cool comments from all over the planet, I feel re-energized. Thank you.
VA VA VOOM VACATION
I also had a great time swinging down through parts South for our annual trek to my pal and neighbor Otto Von Stroheim's Tiki Oasis at the Caliente Tropics in Palm Springs . On the way we crashed at the newly renovated Hotel Roosevelt in Hollywood, and broke bread with B movie legends at Musso & Frank's, one of our favorite LA destinations. While in Palm Springs we lounged at one of our favorite spots on Earth, the Orbit-In. It was a short trip, less than a week, but it was damn relaxing and it really helped me to de-stress, decompress and re-assess my situation in life, which ain't half bad in a world gone mad.
We decided to stay in the old Hollywood Roosevelt because it's a legendary movie star playground where the first Academy Awards took place (whoopdee-do). It's gone through several renovations over the years, and we got there just after its most recent overhaul/facelift. Even though I lived in LA for years I'd never set a foot inside the joint so I have no frame of reference, but some drunken babe came up to us in the sleek, dark, contemporary Spanish-style lobby and loudly complained the vintage pastel glory days of Ricky and Lucy were long gone, replaced with lots of a lot sleek, brown bullshit. They even ruined the pool, she said. That didn't stop us from being upgraded for cheap to a cabana room, which was very modern but in a 60s Shag sense. Too bad it was raining most of the time we were there, so we didn't get much swim time, but it was nice enough. They may have ruined some of the old Hollywood ambiance, I'm not sure, but the refurbished architecture and semi-glamorous atmosphere still screams vintage celebrity pool party.
| | | | | | | |
| --- | --- | --- | --- | --- | --- | --- |
| | | | | | | |
| Hollywood Roosevelt Hotel | | Tropicana Bar, poolside at the Roosevelt | | In good company at the Roosevelt | | Monica ready to paint the town red |
That first night we dined with pallys Greg, Anna and Karen in a famous old school restaurant, the Dresden Room, featured prominently in Swingers. The resident cheesy lounge duo, Marty and Elayne were there, of course - they even performed that ol' chestnut "Stayin' Alive." The food was fabulous, as were the cocktails, highly recommended.
| | | |
| --- | --- | --- |
| | | |
| Marty and Elayne singing "Stayin' Alive" at the Dresden Room | | At the Dresden Room |
Afterwards we went over to nearby hipster haunt Tiki Ti's and ran into a whole contingent of pre-Oasis revelers:

With Tiki Centralites at Tiki Ti's
The next day we attended a "B Movie Roundtable" I organized at Musso & Frank's, one of our favorite LA eateries and a real class joint. Great food, atmosphere and martinis, authentic classic Hollywood vibe. On hand were our old pals Raven de la Croix (of "UP!"), filmmaker William Winckler ("Double D Avenger" and the forthcoming "Frankenstein and the Creature from Blood Cove"); Mike Schlesinger and Susanne Jacobson from Sony Repertory, poised to take over the MGM library which is good news for Thrillville moviegoers since that includes a lot of AIP titles; and the B movie maven himself, Fred Olen Ray! It was great sitting around hearing first hand tales of Ted Mikels, Russ Meyer, Roger Corman, Ray Dennis Steckler, John Carradine, Mamie Van Doren, John Agar, John Ashley and many others:
| | | | | | | | | |
| --- | --- | --- | --- | --- | --- | --- | --- | --- |
| | | | | | | | | |
| Musso & Frank's, Hollywood | | With William Winckler and Raven de la Croix at Musso's | | Raven and Fred Olen Ray | | With two B movie legends, Raven and Fred | | Mike and Susanne of Sony Repertory |
That night we had planned to attend a performance of the new play "Shag With a Twist" but it was cancelled, so we instead we checked out this swank new supper club in Pasadena called Frank and Dean's . They feature live music nightly, all classic Vegas style lounge stuff like Elvis and Tom Jones impersonators, and there are photos of the Rat Pack and friends all over the joint. One room is dedicated to Frank, another to Dean. We sat in the bar area listening to some cool cat croon everything from Dino to disco tunes, joined by a couple of Tiki Centralites down for the Oasis, Tiki Bob and his wife Linda, from North Carolina. We had a swell time:
| | | |
| --- | --- | --- |
| | | |
| With Tiki Bob and Linda at Frank and Dean's, Pasadena | | Will pays tribute at Frank and Dean's |
Then the next day after lunch in my favorite LA diner, Dolores', where I've been ordering the same dish, the Eggplant Florentine since around 1979 (they really should name it after me already), we headed to Palm Springs. Forget contemporary Vegas, with all its family-friendly hi-tech grandiose bullshit theme park revisionism. Its swanky Rat Pack glory days are history. I dig Reno more than I do Vegas, only because it has some semblance of its own tawdry, tantalizing tradition left. But nowadays, Palm Springs is THE Lounge Capital of the World, baby, a Midcentury Modern Oasis existing blissfully in pristine glory amid an ugly, bland 21st Century wasteland of plastic, pain and politics. And within this oasis, The Orbit In is THE Lounge Spot in the Lounge Capital of the World. You wanna live like a lounge lizard for a day? Check into the Orbit In. Dig the Tiki Goddess and I relaxing poolside, where Patrick served us "Orbit-tinis" as Ultra Lounge played in the background:
| | | | | | | |
| --- | --- | --- | --- | --- | --- | --- |
| | | | | | | |
| Sippin' an Orbitini at the Orbit In, Palm Springs | | Monica ready to relax in the pool | | Monica sips an Orbit In style | | Tiki Goddess at the Orbit In |
Monica and I are making our way around the Orbit In pool. There are nine theme rooms. First for us was the Rat Pack Suite for my 40th bday roast, then last year we stayed in The Leopard Lounge. This year it was the Atomic Paradise Room:
| | | |
| --- | --- | --- |
| | | |
| The Atomic Lounge Room, Orbit In | | Ready to party |
When not relaxing by the pool at the Orbit, we joined our fellow tiki freaks 'n' geeks at the Caliente Tropics . This year's theme was "Pirates and Savages." Great bands performed including Project Pimento, APE, King Kukulele, Kitten on the Keys and the Mai Kai Gents. There were burlesque dancers, costume contests, a tiki wares bazaar where we dumped a load of cash, a tiki art show, and more. Here are some choice shots:
| | | | | | | |
| --- | --- | --- | --- | --- | --- | --- |
| | | | | | | |
| Otto and Baby Doe | | Otto and Will in "Mai Tai Vision" | | Tiki Oasis in full swing | | Burlesque pirate booty |
| | | | | | | |
| With Kitten on the Keys | | With Dave of the Purple Orchid Tiki Lounge | | Monica and Mark of Project Pimento | | Pirate gang including Kitten on the Keys, Cali Kid and Robby of Project Pimento |
| | | | | | | |
| Monica and Kitten shop PS | | With pallys at Sherman's Deli | | Maikai Gents at the Reef Bar | | With Bill "Mai Tai" Graff |
We ate out at a ritzy joint called Melvyn's, as well as my favorite deli Sherman's . The weather was balmy and beautiful, a perfect daytime high of 82 degrees with a light breeze cooling you off. It was actually too cool at night for the usual Tiki Dive-In, which we hosted last year, so instead Alan Parowski and Sven Kirsten showed vintage tiki movies and slides on the screen behind the stage. All in all, Paradise, baby.
On our way out of town we stopped by Elvis's Honeymoon Hideaway , where Lisa Marie was apparently conceived. It's a marvel of modern architecture on top of being a major tourist attraction for Elvis fans. And since I couldn't make it to Graceland for my 42nd bday, this was the next best thing:
| | | | | |
| --- | --- | --- | --- | --- |
| | | | | |
| At Elvis's Honeymoon House, Palm Springs | | Honeymoon house living room | | Will in the Jungle Room |
| | | | | |
| On the throne... | | In the bedroom... | | Honeymoon pool |
On the way home we stopped by Solvang off 101, a popular roadside tourist trap I didn't even know existed until I saw it featured in William Caste's Homicidal. It was very quaint, nothing but authentic Danish architecture and about ten bakeries per block: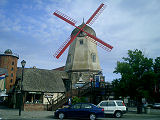 Solvang
We arrived home to a torrential downpour that made me want to turn right back around and head back to Palm Springs. Some day. Like not soon enough. Next to Hawaii, it's our favorite vacation spot. One day we'll take a permanent vacation, one home in each, and divide our time between the two. Sounds impossible but hey, I never thought while driving blood around the Bay Area I'd come this far, so you never know. It's cool to dream.
FULL OF SHATNER
One of the great things about the Bay Area you can't get anywhere else, even in Palm Springs or Hawaii, is the Parkway Speakeasy Theater. And you could ask for no better venue, with its couches, food and booze, for my ANNUAL TRIBUTE TO WILLIAM SHATNER (July 14). This is my fifth one and the third featuring his all time sleaze masterpiece IMPULSE (1974), back again by popular demand, a movie you must experience at least once, because then you just won't be able to get enough of it. And if that wasn't enough, I'm bringing back our old friend, gorgeous glamour gal LADY CHERRY MALONE to perform live on stage, adding to the overall atmosphere of delightful decadence. The first scene of "Impulse" is in a stripjoint where Shat coolly cases a belly dancer before strangling her in his car. He keeps killing babes during blackouts, with flashbacks to his tormented childhood when he killed his mother's suitor with a machete. "Oddjob" from Goldfinger is his parole officer, who gets chased by Shat through a car wash at one point. I just can't give any more away. This may be the single most outrageous flick I've ever shown, a Thrillville milestone. Thanks to Paul 'the Thrall' Vietzke for first turning me on to this sick masterpiece, and to The Werepad for having a super rare 35mm print of it. Shatner must've thought and hoped this career-defining gem was long gone, but sorry, it's been revived for future generations to rediscover and revel in.
BE-BOP-A-BULLET-BRA
This movie still seems like a dream to me, too cool to be real, dig it: Jayne Mansfield, Julie London, Edmond O'Brien, Tom Ewell, Little Richard, Fats Domino, Gene Vincent, Eddie Cochran, Ray Anthony, the Platters and more all in the same movie, in wide screen Deluxe color! Sounds too good to be true but lucky for you, it's a real ribald rock 'n' roll reverie called THE GIRL CAN'T HELP IT (1956), a sex comedy loaded with gags, gals and gangsters not to mention some of the most famous performers of all time in their prime. The nifty nightclub sequences alone are worth the price of admission. I'm bringing this classic back again as part of my ROCKIN' BOMBSHELL REVUE (August 11) featuring the return of Baby Doe and THE DEVIL-ETTES live on stage! Baby Doe as you know is my new upstairs neighbor and we both invite you to attend this sultry swingin' summertime bash.
Well, I'm spent. Thanks for taking this trip down Mammary Lane with me. Aloha till next time.
NEXT: SPIES AND MONSTERS