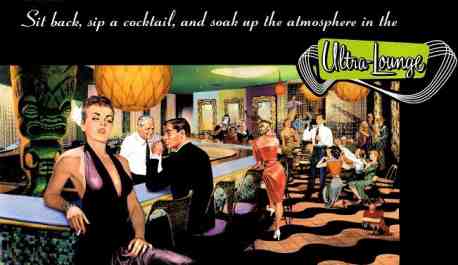 By Will ("The Thrill") Viharo
THIS MONTH:
The Full Wedding/Honeymoon Report;
Dolemite Meets. Infra Man on Planet X
(click on Schedule link at left for movies and showtimes)
ALOHA!

his is going to be one long ass column, with only a couple of pictures, so if you just wanna read about this month's flicks, skip down to the final few paragraphs - and that's a lotta skipping. So be literate and read on through, you'll dig this (relatively) brief recap of the greatest Thrillville Production of all time - the Wedding of Will the Thrill and Monica, Tiki Goddess at the Cal Neva Resort in Lake Tahoe, with a subsequent honeymoon journey through the Hawaiian islands of Kauai and Oahu.
Most Thrill Seekers already know all too well how Monica and I met - if not, it's re-told in the last two columns (see Archives link, if you care to do so). Suffice to say it was at the Parkway (www.picturepubpizza.com) during my midnight showing of Jailhouse Rock on May 31, 1997. (I'm reviving this flick for a special Elvis Tribute at the P'way next month, on August 16, commemorating both my meeting with Monica and the 24th anniversary of the King's disappearance - see Schedule link for details).
Exactly four years later, on May 31, 2001, she became my lovely assistant for Life - and I became hers.
It happened at the Cal Neva Resort (www.calnevaresort.com) on the North Shore of Tahoe, once a Rat Pack retreat owned by Sinatra back in the day (meaning 1960-63, the three years before I was hatched - again, see last two columns for more details, if you care to do so - my fingers are too sunburned to type that much, with the exception of a small section on the fourth finger of my left hand). We had many friends and family members in attendance whom we hadn't seen in years - in fact, I don't think I know who all showed up, it was such an epic blur. In fact, I could bump into someone on the street, a relative of Monica's, who could comment on my wedding, and I'd have no recollection of ever meeting them. They probably remember more than I do. I'd had seven martinis by the time I made it to the altar.
Parkway head honcho Kyle Fischer was one of my groomsmen, along with my best man Greg Vargas, plus Brian Hill and Elvis Underground Church founder and Deacon PM Clary (www.ElvisUNDERGROUND.org). Our minister was my good pal Robert Ensler, who performed the ceremony I scripted in his full on Dean Martin persona (see www.TheRatPack.net). We did the actual wedding out on the gazebo facing the beautiful lake - it was a sublimely stunning backdrop. We hired a local mariachi band, Mariachis Los Halcones of Oakland - whom we saw perform at Yoshi's a couple of years ago and decided right then and there they'd be perfect for us after watching them do "My Way." For our wedding they learned "Love Me Tender" in Spanish and played it as Monica came down the aisle with her folks. As the bridesmaids came down they played Frank's "All the Way." Once Monica was up front with me they backed Robert Ensler as he sang Dino's "Inamorata." It was a cross-cultural phenomenon.
Monica was of course the most beautiful bride ever - and the most passionate. For her vows she quoted Shakespeare at me with a sincerity that filled every eye witnessing the event with enough water to flood the lake. It was heart-stopping. I was proud and humbled. My own vows must've sounded pathetic by comparison. I did mumble that I had nothing written in advance because, for once, my life was not a movie - it was real and true, which is the way a relationship should be.
Everything went off without a hitch - except for us. We were hitched. Finally. Two and a half years in the planning, probably that long to pay it all off, but boy, was it worth it.
My old man, Robert Viharo, showed up looking like Dennis Hopper in Easy Rider. But it was still good to see him, I love that crazy guy. We made for an interesting stylistic generation gap - in reverse. I was wearing my James Bond white dinner jacket (think Connery during the pre-credit sequence of Goldfinger, I know I was), and Monica wore an elegant long white gown with her hair done up early 60s, Breakfast at Tiffany's style. Again, she was the most beautiful bride ever. Wait, didn't I say this wasn't a movie? Oh well. But it was captured on video. I'll show a bit on the big screen at one of my Parkway gigs sometime soon, as people are walking in before the show, probably at the Elvis tribute next month.
Anyway, the reception took place in the Frank Sinatra Celebrity Showroom, where all the great lounge acts of the early 60s performed. I burned all the CD music myself, of course, a mix of classic lounge and soul. On a big screen behind the stage I had Rat Pack footage silently playing, followed by the complete Ocean's 11 movie and then Elvis's Blue Hawaii. The mariachis returned to play throughout the delicious dinner, and we had an open martini bar with fourteen different recipes we chose ourselves. Here's the complete list, without ingredients - again, that's too much to type; if you're interested, email me which ones you want to mix yourself and I'll send you the recipe personally:
The Sinatra-tini, The Dean Martini, The Sammy Davis Junior-tini, The Mariachi Martini, The Goddess, The Lounge Lizard, The Elvistini, The 007, The Marilyn Martini, The Ann-Margetini, The Tikitini, The Swinger, The Pin-Up, and of course, The Little Bishop.
All of the tables were also named after our favorite singers and groups (well, some of them). This list includes:
The Elvis Presley Table, the Frank Sinatra Table, the Dean Martin Table, the Sammy Davis Jr. Table, the Bobby Darin Table, the Tom Jones Table, the Julie London Table, the Eartha Kitt Table, the Louis Prima and Keely Smith Table, the Steve Lawrence and Eydie Gorme Table, the Rosemary Clooney Table, the Temptations Table, the Marvin Gaye Table, the Smokey Robinson Table, the Mel Torme Table, the Tony Bennett Table, the Ann-Margret Table, the Marilyn Monroe Table, the Nancy Sinatra Table, and of course the Peggy Lee Table.
For our First Dance we did the blues waltz to Elvis's "Can't Help Falling in Love," followed by Frank's "The Best is Yet to Come," Bobby Darin's "More," Dino's "Ain't That a Kick in the Head," Louis and Keely's "That Ol' Black Magic," Steve and Eydie's "This Could Be the Start of Something," Tom Jones's "Green Grass of Home" was the Father of the Bride dance, and then we ended with Etta James' "At Last" before we finally sat down to eat and the mariachis took over till the thee-hour dance segment, which also featured Robert Ensler doing his swingin' Sinatra impressions of "Fly Me to the Moon" and "Night and Day." When we cut the cake we played Elvis doing the "Hawaiian Wedding Song, " Blue Hawaii showing silently as a backdrop.
At one point I got up on the stage with Monica and thanked everyone for coming to our first Thrillville Tahoe Road Show. I just don't know how to top or even equal it. I don't plan to. At least not in Tahoe.
Here's possibly the most amazing thing about this amazing event: on the road to Tahoe, our car, actually Monica's, a '95 Mitsubishi Mirage, finally blew its tired transmission somewhere before we hit Truckee. We'd just had it tuned up too. I was driving, singing along with my wedding CDs, Monica sleeping peacefully in the passenger seat, when I noticed all this smoke in the rear view mirror. I woke her up. "Hey, is that our car?" I asked her. Then someone drove by us honked. "You're leaking oil!" they yelled at us. Shit.
I pulled over at this little gas station and asked the hick clerk if they had a mechanic. No such luck - I had to try to make it a few more miles to Truckee. I went back to the car. Hot smoke was billowing from beneath the hood. The gears were starting to pull and freeze. Our car was jam-packed with wedding favors, clothes, etc. It was a total nightmare. What made it perfectly tragic was the hick clerk running back out of his station to tell me, "Hey, I know what yer problem is. You got a Gore sticker on yer car. This here is Bush country. You take that Gore sticker off and you'll drive right on through jest fine!"
It was a definite Twilight Zone moment.
Anyway, blah blah blah, we called triple AAA, rented a car, had the broken down bitch towed to an AAMCO in Reno. Later we found out the car was shot, if not quite totaled: not just the transmission but a few other things I don't really understand, and the total damage amounted to around 2700.00. We'd already run up a heavy debt on the wedding and honeymoon. This is exactly what we didn't need. In short, we were royally screwed.
Or so I thought.
I tried to put all this on the mental back burner so I could concentrate on the wedding, which was stressful enough, and once I started running into all my friends and family, I sort of did, although it was always there, nagging me. Was it a bad omen for a rocky marital road ahead?
I'll cut to the chase. While I was on stage saying thank you to everyone, Monica told everyone about our bad car-ma and then made a surprise (at least to me) announcement: her father had just given us a new car. Of course he had no idea our car would practically blow up on the way to the wedding. He'd just bought this other car, a 2001 Nissan Ultima, days before the wedding. I saw him drive up in it. I thought it was his. Till he gave it to us. I told Monica in front of the whole flabbergasted crowd that I didn't believe it. "Here!" yelled her Pop - and he threw the keys across the room and onto the stage.
Our old car is still in Reno, but at least we have classy new wheels in the meantime. All I have to do is come up with a new license plate. I'm thinking: 2THRILL. We'll see if it's taken already.
People were right: weddings go by in a blur, slow and fast motion simultaneously. I'm still processing it all. It's overwhelming, like a man starving in the desert who is rescued and given a banquet feast, then finally finds himself stuffed with a lot more food left, so his fortunes, and problems, are suddenly reversed. Finally, I just wanted a moment alone. I knew just the thing to do.
At midnight Monica was pounding on the door of our honeymoon suite, but I didn't hear her - I was chilling out by myself watching a Miami Vice re-run. I found my bride later, though, and we spent some quality time together as man and wife. This I do not have on tape and will not be showing in Thrillville, sorry.
The morning after I took everyone down to The Tunnel: this is where Frank used to secretly smuggle in mobsters and other pallys underground from one state to another (the Cal Neva is named such because the California-Nevada border cuts right through it - duh). It used to go from a private helicopter pad to Frank's personal cabin on the lake - #5, where I spent my last night as a swingin' bachelor. The Tunnel is smaller now, and it was kinda cramped, leading this long procession of Rat Pack neophytes, but it was a historical little hike. Again, I have it all on tape, and will show it sometime at a Thrillville gig as people are coming in.
After all this, we needed some serious relaxation time - and Monica picked the most perfect spot on Earth: the Hyatt Regency Resort and Spa on the remote and dreamlike island of Kauai.
I've never experienced such luxury. Glistening pools, emerald lagoons and cascading waterfalls wind throughout the complex, with a circular bar right in the center. Our room faced the ocean and swaying palms - a living postcard of a view. The hotel itself features several great restaurants, including one called Tidepools that looks like a 50s tiki bar, although our waiter had no idea what I was talking about when I pointed that out. The resort was built in 1990 but has a restored 1920s feel to it, so I thought it was much older. It was practically demolished in the '92 hurricane, and they show video footage of the storm and restoration every night at 6:30 in the Robert Louis Stevenson Library, a really cozy bar that has a great jazz/blues house band. On the video I saw my wedding night TV companion Don Johnson thanking hotel employees for getting the guests through the ordeal. But we were luckier. The weather was gorgeous, very warm and humid but with a constant cooling breeze and intermittent showers, which I love - reminds of New York in the summer. For four glorious days we swam, ate, swam, ate, went to a killer luau, swam, ate, drank, drank, drank, drank, and….you get the picture.
While on Kauai we took two official tours, outside of the sightseeing we did with our rented Mustang Convertible (the vehicle of choice for all Hawaiian tourists). One was a helicopter tour of the entire island. Monica randomly chose the Jack Harter company and it turned out Elvis used the same outfit for filming his helicopter scenes in Paradise, Hawaiian Style. A dude in the office also showed me a picture of Sinatra flying with Jack back in the 60s when he was there filming None But the Brave. All of this made me feel a little better - you see, I hate heights. I didn't want to do this. I got paralyzed with dread on the ferris wheel in Santa Cruz. I'm a vertigo wimp. I did this out of crazy love for my new wife. For me it was fifty-five minutes of pure terror. Our pilot was very calm and skilled, and everyone else, including Monica, loved the incredible views as we dove in and out of waterfall-laced canyons. I was taping it all on my new camcorder, Monica's birthday gift to me, so I just concentrated on the little monitor and told myself, "It's only a movie…."
We crossed the entire island and at some points rain hit the windows, and we were slightly buffeted by winds. We passed over the highest elevated swamp in the world, known as "The Wettest Spot on Earth." I thought that title would go to me if we didn't land soon - I was already a deep airborne puddle of sweat, and if I blew my bladder we'd sink into the jungle like a giant popped water balloon.
We wound up at the famously inaccessible and wildly scenic Na pali coast, which was just awesome (I just watched it on my video), and while over it I uttered my single sentence of the fearsome flight: the guide mentioned this was where they filmed King Kong. "You mean the remake," I immediately corrected him in my little microphone, for everyone's trivia benefit. The guide nodded affirmatively. If we were going to die horribly, I didn't want it to be with critical cinematic misinformation as our final thoughts.
The pilot hovered in circles over the coast for an incredibly uncomfortable period before diving into more lush canyons on the way back. He said the rainy weather was good for the waterfalls, made them gush. Just drive, I thought. Get us on the god damn ground, enough with the nature-loving yada yada. He was actually very good. I was just one big knot of nerves. I didn't let Monica know, though. I was outwardly cool throughout. She had not idea how terrified I was until we finally landed after a quick flight over the waterfall from Fantasy Island.
"Did anyone see that crashed helicopter?" she asked the happy group in the company van on the way back to our car at helicopter HQ. I was still pale with retroactive horror. Apparently a rescue 'copter had crash landed on the other side of the island the day before. Monica had the wifely wisdom not to point it out to me while we were up there, though. Thank god. It would've been a puke fest.
Back on the ground, which I made passionate love to, I went for the nearest Mai Tai and tried to chill out. We drove (the only way to travel) back around the coast to Princeville, which was impressive but too Euro-chic for my tastes, and stopped at some beautiful beaches and cool little shops along the way, and discovered a terrific authentic tiki bar, untouched by time, called the Tahiti Nui, in the funky Santa Cruz-ish seaside community of Hanalei, land of one way bridges and "Puff the Magic Dragon."
The next day we took a tour more to my tastes - for one thing, it was from an air-conditioned bus. It was the four year old Kauai Movie Tour (www.hawaiimovietour.com), which I highly recommend to you Thrill-seeking travelers. Over a hundred flicks have been filmed on this densely scenic isle, starting in 1933 with something called White Heat (not the Cagney classic of the same name from '49) right up to all the Jurassic Park thingers. The knowledgeable guides got an enthusiastic earful from me - I was one-upping them as they took us to the original sites of classic Thrillville type flicks like Corman's She Gods of Shark Reef (you may've seen the tiki-heavy trailer from Uncle Bill's collection in Thrillville), Boris Karloff's Voodoo Island, Esther Wiliams' Pagan Love Song, and especially Elvis' Blue Hawaii - the whole reason we were there to begin with.
The Coco Palms hotel was the highlight of the tour and indeed the whole Kauai experience - this was where Elvis stayed while filming Blue Hawaii in 1961 and where he shot the famous floating wedding scene finale with Joan Blackman (FYI: my interview with her comes out in Outré this summer). It's closed down now because of the '92 hurricane, but new owners plan to restore it to its former glory starting this Fall, and Monica and I plan to return for its grand re-opening sometime next year. Frank also stayed here while filming None But the Brave in 1964 and nearly drowned on the beach nearby. The guide took us throughout the grounds, showing us Elvis's personal bungalow, the bar and pool where celebrities from decades past hung out, and places where they filmed Fantasy Island. It was surreally satisfying, a truly thrilling pilgrimage.
We also went to locations for the pilot of Gilligan's Island, South Pacific, Beachhead, and Donovan's Reef. The guides also pointed out some more recent film locations I wasn't interested in, one I recall was something with Harrison Ford that came out last year. The opening scene from Raiders of the Lost Ark was also shot on Kauai. Ho hum. I like the vintage classic stuff exclusively. But you know that already.
I told the company founder Bob Jaspar I personally knew three Elvis babes from his three Hawaii movies, Joan Blackman (Blue Hawaii), Julie Parrish (Paradise Hawaiian Style) and Stella Stevens (Girls! Girls! Girls!), and he was thrilled when I gave him their contact info.
After Kauai we landed in the more cosmopolitan and crowded isle of Oahu, staying in famous Waikiki at two different hotels. First was the Hawaiiana, recommended to us by our pal Otto Von Stroheim (www.tikinews.com) because it was very "tiki." It was. In fact, as far as tikis go, which is far in my world, Hawaii does not disappoint: they are all over the friggin' place, in drugstores, on the street, in bars, restaurants, shops, random places here and there. To us tiki is a 50s fixture, a symbol of Lounge. To the islanders it's just a timeless cultural artifact, no kitsch value attached. You can buy tikis of all shapes and sizes for cheap just about anywhere. Sidewalk artisans carve them right in front of you. It's mind-numbing. I suspect mainland vintage store merchants go there, buy a tiki for five bucks then turn around and sell it back here for fifty. Same with aloha shirts and hula girl stuff. All over the place. Hawaii is very much into its own culture - but not Americana per se. I found NO Jazz clubs in Honolulu, no knowledge or interest in anything Lounge, and dig this: my single greatest disappointment with the while trip?
DON HO WAS IN FUCKING CHICAGO!!
That's like going to Vegas and Wayne Newton is in Hong Kong. I thought Don wasn't supposed to leave? He's a fixture, like Diamond Head. I couldn't believe the luck.
My other puzzling letdown was this:
NO ONE IN HAWAII HAS EVER EVEN HEARD OF MARTIN DENNY!!
It was like going to Memphis and you ask where Graceland is and the locals go, "Where? Elvis who?" Hawaiians love indigenous Hawaiian music only, though nowadays the radio waves are full of this really lousy neo-country/raggea sounding crap - in fact, all the clubs I stopped by play nothing but Steely Dan/Lionel Ritchie 70s and 80s easy listening shit. I just couldn't believe it. I was going around educating bartenders about Exotica! Even in the Hilton Hawaiian Village, where Martin Denny performed for decades, bringing Polynesian kitsch to a worldwide audience, I had to clue the long-time employees to his existence! I even gave the bartender a tape of Denny's music for his edification. I kept saying to people, with obvious frustration - "You know, the stuff with the birdcalls! Boo doo ba doom, boom bom boom… aw, aw!" They responded to me like I was a babbling mainlander. I guess I was. The only two people I encountered on the islands who had heard of Martin Denny (it became an obsession, to Monica's embarrassed chagrin) were two older craftspeople from somewhere like Wisconsin. Then it hit me: Martin Denny was our mainland vision of Hawaii and Polynesia, not there's. I had to let it go. But I didn't.
We spent three days at the Hawaiiana, which was exactly the kind of colorful dive Robert Mitchum and Jane Russell might rendezvous to fuck in an old movie. It had a private kitchen, whirling ceiling fan and bamboo furniture, with a tiki on the shelf above the TV. They also had TNN, which meant I could catch an episode or two of Miami Vice, and I did. Our rented Mustang was broken into the very first night. All they took was all I'd left in the car, three empty CD cases: a Keely Smith CD, the Blue Hawaii soundtrack, and of course Martin Denny's Greatest Hits. I had left my own CDs back in Oakland, thinking all rented cars had tape decks, so I bought these three CDs in Kauai at a Border's (and really got into it with the clerks when they couldn't direct me to either Lounge or the Martin Denny section, having never heard of either). The CDs themselves were still safely in the player. So I got to meet a real Honolulu cop. The theme to Hawaii Five-0 played in my head as he filled out the report. It was almost worth it - plus the moron crooks probably felt like shit when they finally opened the empty cases. But I had left Oakland to get away from this kind of thing. I was back in the Big City. Oahu is not Kauai. But our next hotel stay made up for everything: three dream days at the historic Royal Hawaiian, right on the beach.
It's known as the Pink Palace, built during the boom-time 1920s, an official wartime furlough refuge in the early to mid 40s, and throughout its history the destination of choice for movie stars, royalty and celebrities of every stripe. Esther Williams stayed there. Shirley Temple made headlines doing the hula on the beach just outside the world famous Mai Tar Bar, where Mrs. Thrill and I spent a lot of time and moola. It really stands out amid all the more modern high-rise hotels lining Waikiki. We stayed in the historic wing, natch. It was pure bliss, baby.
We did a lot of sight seeing, driving up the coast to the Polynesian Cultural Center, a pretty cool Disneyesque complex where you can "tour" Polynesia, separated into villages representing Fiji, Samoa, Tahiti, etc., (they also had a mock Hawaii, which was really sad, considering where I was already). But the thing is, it's owned and operated by Mormons. This bothered me, so I couldn't really relax and enjoy it. After all, Polynesian culture is historically pagan. I like it that way. It feeds my white fantasies of leering tiki gods and half nude sexually adventurous hula babes. All of this was on display throughout the grounds and at the luau and impressive dance show later that evening, and the place was loaded with tikis - but every now and then, at one of the cultural demonstrations in the little villages, someone would mention how most Polynesians have given up their traditional hedonism and idolatry and are now good Christians. I could've barfed up a pig. The underlying religious creepiness didn't totally detract from my appreciation of the festivities, but I wish I hadn't known that I was helping to send a hot little island chick to the Hawaiian branch of Brigham Young University, where her true heritage would be corrupted by and filtered through the warped religious right perspective. I like my hula babes nice and pagan, without puritanical shame. As it was, they put on a hell of a show that night, fire-eating, mating rituals, the whole bit (we'd seen similar events at the Hyatt Regency "Drums of the Islands" luau back in Kauai, where the babes were much sexier, to be honest - that band also did three Elvis songs in our honor). You could tell a lot of vacationing Mormons were in the crowds - very white, pasty, flabby, and scary, with that dull, vacant expression common to people who spend too much time in a stuffy church and not enough time living life, the true gift from above. The funny, weird thing was, a lot of the Polynesian ceremonies were pretty racy by nature - and were suitably cheered by the vicariously horny audience. I was happy to get the hell out of there, though I did pick up some nifty souvenirs, including two hand-carved tikis personally inscribed with our names to commemorate our honeymoon.
For the first four days on Oahu we spent our time shopping (yours truly scored tikis, aloha shirts and hula girl merchandise galore, baby), eating lotsa seafood, drinking lotsa tropical drinks, and visiting the usual tourist traps like Pearl Harbor, though we were too late for the Arizona tour. (I'd barely wake up my sunburned ass up at 6AM on my honeymoon for sex with my wife, much less a tour of an underground graveyard). I did go on board a WW2 sub, which was a trip, though we never left the dock. We saw the new Pearl Harbor movie while in Waikiki, an epic yawnfest, with a shockingly predictable romantic subplot that would be rejected by a Gidget scriptwriter as being too trite. It was not as disgustingly offensive as, say, Titanic, which it obviously mimics, but it is certainly a far cry from truly great Pearl Harbor films like From Here to Eternity, which starred adults and had complex characterizations along with the requisite special effects. As far as wartime comedies go, I much prefer Abbott and Costello in Buck Privates. It was strangely exhilarating walking out of the Waikiki multiplex into a sea of Japanese tourists, though. I always wonder what they're thinking. They never let you know.
On two separate evenings in Waikiki, while sitting in restaurants - the first time in Buzz's Steak House and the second in Duke's Canoe Club, both highly recommended - massive fireworks suddenly went off over the bay for about fireworks. No one seemed to know why. Could it have been a mysterious honeymoon tribute from The King?
The last two days of our ten day trip we tried to simply relax. I loved Waikiki, at least the shoreline. The rest of it is one big mall, and Honolulu is pretty, but basically just another bustling metropolis. It kind of looks like downtown LA, but with more of a laid-back Bay Area vibe. (Most people I met in the islands who were not native were from Northern California.) The beaches are pristine, the water brilliant green and the sands soft and white. It was the greatest maritime experience I've ever had. Great for people and surfer watching, too. We even went out on a catamaran around the bay. I'm telling you, it's just like it is in the movies. We had a clear view of Diamond Head from our room, too. You could even order Japanese porno on the TV. It was perfect.
The next to last night of our stay I finally got to hear some real music, besides the ubiquitous traditional Hawaiian music, which I love. The one place nearby that advertised itself as a jazz venue actually played the Doobie Brothers and Whitney Houston type stuff, just a regular cover band. I couldn't get over it. Then The Royal Hawaiian saved my sanity by hosting a swing dance in the Monarch Room sponsored by a local radio station, which supposedly is like our own KABL 960AM but actually sounds more like KABL did during its disastrous format change last summer - more soft rock than swing. But the real deal was on the stage when we walked in, dressed to the nines; I was sporting the hula girl tie Monica bought me. The Willie Barton Orchestra swung like it should, sounding like a cross between Benny Goodman and Xavier Cugat, and though the crowd was chiefly geriatric there were a number of swing kids on hand strutting their stuff. Diamond Head and the beach loomed beyond the outside terrace. Soon the sun began to set and the mood was magical. Guest singers sung our favorites tunes, from Sinatra classics to "Cuando Cuando Cuando" to "Mack the Knife." The MC told bad, politically incorrect jokes. This ancient Japanese dude sang some Sinatra tunes in a style that still sticks in my head. It was heaven, a perfect capper to a perfect honeymoon. Except for Don Ho being out of town, that is.
Overall, I was much happier with Hawaii than I was with that other former Lounge capitol, Las Vegas. At least Hawaii still celebrates its own history and culture, doesn't try to be anything else - when you're in Hawaii, you feel like you're in Hawaii (or in Japan sometimes, but only briefly). Vegas has managed to eradicate its own historical identity in favor of a mishmash of other cities' personalities. I pity people who go to Vegas and think they're also visiting New York or Paris. I miss the era when Vegas was just Vegas, and when you were there, you weren't trying to pretend you were anywhere else. But I've written volumes on my disgust with the self-destruction of Classic Vegas - this column is a tribute to Classic Hawaii, which I am happy to report still exists, outside my imagination, beyond the malls and tourist traps of Waikiki - you find it in the little shops (check out Bailey's Vintage) and bars and the remote beaches as well as on the celebrated surf just outside the gate of the Mai Tai Bar at the Royal Hawaiian. I have no desire to ever return to Vegas - I'll just visit the swingin' neon-lit oasis in my head when I get the urge. But I will return to Hawaii, as often as I can. This time I'll call ahead to see if Don Ho is in town, though.
But it's nice to be back home too, and live in a place where the natives have heard of Martin Denny.
Anyway, when I got back I noticed the American Film Institute had just released their latest bogus Best Of the Century list - this time, the 100 Most Thrilling. Yawn. I hate the AFI. Their role is meant to edify the public and preserve classic films, and instead they pander to the mainstream mentality. All they do is promote movies everyone (mostly) has already seen and heard of, like Jaws, the Exorcist and Psycho - all good films, but to me what's really thrilling about movie-going is discovering obscure films that are just as powerful as famous ones, maybe more so by virtue of their rarity. This is what Thrillville is all about. It's my mission. Therefore, the AFI list - which actually includes Titanic but does NOT include The Creature From the Black Lagoon, I rest my case - is to me the ANTI-Thrill List of Top Thrilling Movies Of All Time.
To wit: this month I am featuring two movies not on their list, that will never be on any of their lists, but which are more thrilling than at least 80 of their Top 100 thrill-titles. Do not miss them, they may not show up on the big screen ever again.
Firstly is Rude Rudy Ray Moore's '70s blaxploitation masterpiece DOLEMITE (July 5, Parkway), the first of several movies in which Rudy basically plays a variation of himself, an ass-kicking honky-hating stand-up comic who is heavy into kung fu and girlie booty and the word "motherfucker." This movie is incredibly cheap (you see boom mikes all over the place, the actors have to actually duck), and incredibly entertaining. The violent action is fast and furious and the racist humor side-splitting. This is an extremely rare 35mm print, again courtesy of those awesome archivists at SF's Werepad (www.werepad.com). In fact, Thrillville and the Werepad are all over each other this month.
Next, on Saturday, July 14, for yet another Thrillville road show at the Werepad, I am hosting a PLANET X RELEASE PARTY (www.planetxmagazine.com), to celebrate the third issue of Scott Moon's great genre fanzine. This latest issue, focusing on vintage Outer Space pop culture, happens to feature a cover article by yours truly in which I interview and profile Vitina Marcus, the Green Lady on two episodes of Lost in Space. We will be seeing some 16mm clips from that show, as well as an entire Outer Limits episode, which is one of the greatest TV shows of all time (of course I refer to the original only), then some killer Space Ghost cartoons, and a whole lot more classic outer space madness from the voodoo vaults of Scott and our buddy Buzz Bob Ekman, both of whom have put on wildly successful Psychotronic Film Shows in Thrillville before, featuring their rare treasure trove of classic commercials, scopitones, trailers, cartoons, etc. This evening will be a special smorgasbord of coolness, in suitably stylish surroundings. Just do yourself a big favor and be there.
Lastly, I am so proud to present from the Werepad's ultra-cool collection yet another rare 35mm print, this time the mid-70s matinee masterpiece INFRA-MAN (July 19, Parkway), the Chinese version of Japan's Ultra Man. When Parkway chief Kyle was over in China recently, he actually found a big Infra Man action figure and brought it back home! Produced by the infamous Shaw Brothers and starring Fist of Fury's Li Hsui-Hsien, this jaw-dropping fantasy flick appeases fans of both giant monsters and kung fu action movies, as Super Infra Man engages in the martial arts with Octopus Man, Beetle Man, and other big baddies taking orders from the evil Dragon Mom! It's the perfect anti-dote to summer blockbuster-itis - big and entertaining without being pretentious and expensive.
As much as I loved Hawaii, they don't have the arts culture we have here in the Bay Area. Jazz, B movies, Martin Denny, beer and pizza at the bijou - it's good to be home. Mahalo and aloha!
NEXT MONTH: A TEENAGE WEREWOLF, HAUNTED HILLBILLIES,
---