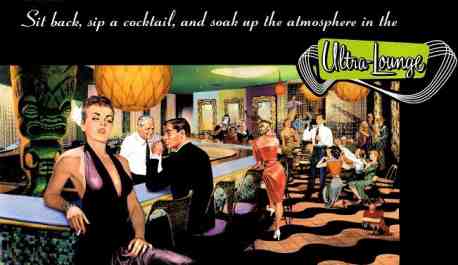 ---
---
---
---
Get the COMPLETE SCOOP ON THE PROTEST
- and my entire lifestory in general -
in SILKE TUDOR'S SF Weekly column
"Nightcrawler"
---
---
---
---

By Will ("The Thrill") Viharo
Please see SCHEDULE link for
updated ticket and program info
THIS MONTH:
THE YEAR IN REVIEW; BEST MOVIES OF 2001; THE LAS VEGAS REPORT; THE BOYCOTT BEGINS; & FRANK'S BIRTHDAY PARTY
THE ORIGINS OF THE THRILLVILLE MANIFESTO
Thrillville was created at the behest of Parkway owners Kyle and Catherine Fischer when the Parkway opened almost five years ago. The concept and content are totally my own, though. It began as a poorly attended Saturday midnight show until I decided to move it to prime time on Thursdays, and since then it's been highly successful. I feel lucky to have been given this unique opportunity, and have done my best to make the most of it, both for me personally and for the audience in general, by seeking out rare, unusual films, cool prizes and very special guests. It's also nice to be in a position where you're not in direct competition with anyone, because you're basically paid to be yourself, and no one else can do that as well. I likewise enjoy my "day job" as Parkway programmer and publicist, though in that capacity I must be much more objective in my choices. My Thrillville "road shows" outside the Parkway, in cool venues like The Werepad, the Fine Arts Cinema, and most recently at Cal State Hayward, have likewise been warmly received, and I have more to come next year, from Sonoma County to Palm Springs. (Speaking of which, I am hosting two bEASTfest programs, one at the Starry Plough in Berkeley on November 30, and a second at 21 Grand in Oakland on December 1 - kudos and thanks to Misty Gamble for another terrific East Bay musical showcase.) Honestly, I don't get many complaints at all about my modest stage show or the offbeat film selections - all booked by me personally - but if someone out there would rather see the film sans the pre-show: TOUGH! Without me, none of these films would ever play The Parkway and in many cases, wouldn't play anywhere! The stage show is just a method by which I can give out prizes, most of which I purchase myself, others are donated by sponsors and supporters. My model for the gig are the old midnight ghost shows of yore, where magicians and ghoulish hosts staged entertaining antics, often with a "lovely assistant," before the film program, which included trailers and shorts (as I now can, thanks to Uncle Bill, the Trailer King.) I consider myself an innocuous figure at best, with a solid perspective of my place in the scheme of things - tiny, but fun. For most, anyway. My objective, beyond rescuing cinematic obscurities, is to celebrate mid-century pop culture in general, ironically more revered in other countries than right here in the amnesiac US of A. The Thrillville state of mind is always roughly set somewhere between 1957 and 1962, the year before I was born. Though the movies I show often range across decades, they have one common element: the elusive sense of what The Cramps call goneness. Which is now gone. Except, at least, in Thrillville, where it's all about style, not fashion.
THE YEAR IN BRIEF REVIEW
Of course, it may be 1957 in my head, but contrary to popular belief, I do keep a current calendar handy. It's been a crazy year for yours truly, in every way. Of course, this was the year Monica and I finally got hitched, at the Cal Neva in North Tahoe, a former Rat Pack retreat once owned by Sinatra, making this the best year of my life so far, world events notwithstanding. …Out of the blue, Christian Slater recently optioned my old Vic Valentine novel, Love Stories Are Too Violent For Me, written in 1993 and published in 1995 by Wild Card Press. I have openly disparaged this book, the only one of sixteen I've authored to be published so far, from the stage and in this column, pretty much written it off altogether, but maybe if the movie is actually made, my fiction career will be revived. Personally I'm happy doing what I'm doing, I can go either way, but I could use the cash, so go, Christian, go!… Bob Wilkins and John Stanley recently returned for two sold out Creature Double Features at the Parkway, always my biggest gigs of the year, and I publicly thank them, and look forward to next year…I successfully took my act on the road this year, to expand my audience but also so I could have access to 16mm film projectors. I have met some cool people along the way who now come to the Parkway shows after seeing me elsewhere, hep cats like Dr. Jon and Doug Johnson, both major patrons of the Arts. Dr. Jon even attended Monica's celebrated performance as Mae West in A Comedy of Errors at La Val's, and Doug made it to our first road show at Cal State Hayward….Monica also starred in Neil Simon's Proposals in Walnut Creek, a big hit, right before our wedding, and had her movie premiere in the Mill Valley Film Festival, as the female lead of Rob Nilsson's raw, raunchy and realistic SCHEME C6. Ironically, it was also her father's birthday, and this was his present. In the film, Monica plays a fiery bi-sexual biker chick, makes out with a punker lesbo right after the opening credits, and soon after has a full on nude scene. Happy Birthday, Pop! Of course, midway through the film, we heard him snoring, but Monica's mother sure enjoyed it. So did the rest of the packed house - including Sean Penn, Monica's new fan. I knew Sean like twenty years ago in LA, back when I hung out with Mickey Rourke. Last time I saw Sean, an actor I actually respect, he was with ex-wife Madonna in Musso and Frank's in Hollywood (it was weird - in the film's nude scene, there's a sexy poster of Madonna on the wall, Sean's eyes sure must've been busy!). Sean claimed to remember me. I asked him if he was just pretending to remember me, since because he's such a good actor, he could fake it, and I'd never know. He said no, it was a ways back, but I rang a bell or two. I'll never know for sure, but I do know first hand he was very impressed with Monica's performance, and he'll certainly recall her for a long time. …This year Monica also got to meet one her true idols, Rosemary Clooney (her other two are Keely Smith and Eydie Gorme.) Hats off to Rosie, a great lady.
My biggest Thrillville nights of the year, besides Creature Features, was the William Shatner tribute featuring Impulse, from the Werepad archives, and also my Parkway screenings of the Werepad's rare 35mm prints of Shanty Tramp, Infra Man, and Hillbillys in a Haunted House. My first road show at the Werepad featuring Angry Red Planet was also a big night. Several times this year I had the honor of hosting films from the voodoo vaults of Bob Ekman and Planet X publisher Scott Moon, all memorable evenings of Psychotronic entertainment. Of course, Uncle Bill's trailers are the high points of any Thrillville film program. And who in attendance will ever forget the Elvis D Day 2001 Party with eXtreme Elvis mooning the big crowd before sitting on a portable toilet to enjoy Jailhouse Rock?
The low point of the year by far: I finally got to host my favorite movie, I WAS A TEENAGE WEREWOLF, both at the Fine Arts and the Werepad, and it mysteriously bombed both times, so it was a bittersweet realization of a dream. The few who attended loved it, of course. I just can't understand why hardly any of my regulars showed up for either screening of a film I've been talking about for years. I couldn't play it at The Parkway because it's only available in 16mm. I might try it again somewhere else next year anyway, giving you all the benefit of the doubt (I guess all of you had other plans both times I showed it). Earlier this year I did get to host the Werepad's print of Frankenstein Meets the Space Monster at the Fine Arts, and that did well. I was quite gratified, since this movie is THE Psychotronic flick of all time.
Of course, being in the movie exhibition biz, I feel obliged to offer my pick for the year's top new movies. Here goes:
MY LIST FOR BEST THRILL-SANCTIONED FLICKS OF 2001:
MULHOLLAND DRIVE - David Lynch's new masterpiece incorporates elements of every one of his movies since Blue Velvet - a stunning neo noir from my favorite contemporary filmmaker. Nobody can create a dream/nightmare mood world like this guy.
GHOST WORLD - touching, funny, truthful in all the right places, a true gem.
MAU MAU SEX SEX - My pal Eddie Muller, co-host of many a Thrillville noir night, co-wrote this hilarious documentary on sexploitation pioneers David Friedman and Dan Sonney. Priceless stuff brilliantly recorded for posterity.
SEXY BEAST - Monica and I saw ourselves ten years from now in the lead couple. I just hope we never have a Ben Kingsley type character in our lives. If so, we'll know what to do. Very stylish and suspenseful, with Mancini and Dean Martin on the soundtrack.
MEMENTO - still trying to figure it out, the real deal when someone talks about "neo noir."
With honorable mention to the film debut of Monica Cortes-Viharo: SCHEME C6. It features a performance by my vote for BEST ACTRESS OF THE YEAR.
THE LAS VEGAS STORY, THRILL-STYLE
I mentioned in my last column (the November '01 edition was sent to the Archives a little early, you can still check it out there) that I had been contacted by a French documentary team via email. They wanted to interview me for a TV film on Las Vegas culture, to be broadcast in France in January on Canal Channel Four, in tandem with the overseas release of Stephen Soderbergh's rip-off of Ocean's 11. The person who got in touch with me was sweet and sexy Valentine Gay, and how she found my web site from across the great pond I don't know, but I accepted their offer to meet them in Vegas so they could film my take on Classic vs. New Vegas, plus my impending boycott of the O11 remake. Soderbergh was also lined up to be interviewed for this documentary, hosted by French celebrity personality and DJ Ariel Wizman, a real cool hep cat, as I discovered.
My journalist pal Mike Weatherford, author of the great new tome Cult Vegas www.cultvegas.com), who will appear at a book release party in Thrillville sometime next year, suggested we do the interview by the old swimming pool near the site of the defunct Royal Nevada hotel on the grounds of the Stardust, one of the few original hotels left on The Strip. Naturally Monica and I booked a room in the old 1964 tower.
The interview went swell. They were very fun and funny and friendly, shot lots of footage of us by the pool and in the casino, plus publicity shots for French newspapers. Monica asked Ariel if the French are as rude as their reputation. He mused a while before replying: "Not rude….just….vile." I also got to hear their perspective on the terrorist attacks. They are very sympathetic, but their empathy is somewhat muted by the resentment American has created in the rest of the world, the popular perception being we got rich and then flipped everybody off. But the French totally despise the terrorists, making no excuses for them whatsoever. They are after all a common enemy. But American arrogance has not been internationally forgotten in the tragic wake of WTC.
Anyway, they will send me a tape, a portion of which I might show in Thrillville sometime. It will be the same old rant - but in French! That should definitely put a new spin on it!
After the interview, we had dinner with the crew and Mike Weatherford in the old Algiers steakhouse, then caught Tom Jones at the MGM Grand. It was my second time seeing TJ and Monica's third, and he was as powerful as ever. WE LOVE TJ! Look for his new (at least in America) album Reload, it's one of his all time greatest. I also broke a personal taboo and entered the Venetian, built on the hallowed ground of the Sands, so I could check out a new club called Venus with an adjacent "authentic" new tiki bar called Taboo Cove, designed by famed tiki-designer Bosco. The Venus lounge was apparently patterned after the paintings of my favorite artist, Shag, with big portraits of Lili St. Cyr and Bettie Page, foreign posters of Viva Las Vegas and Ocean's 11, and great vintage footage of exotic dancers on the TV. A smooth lounge singer was belting out Sinatra, Martin and Bobby Darin tunes with some style in Venus, and after his act ended we had a few drinks in the Taboo Cove, which sometimes features burlesque dancers behind the bar. The drinks were okay, certainly better than the watered down piss you normally get served in Vegas, and the ambiance was cozy and cool. I still have trouble reconciling the notion that Steve Wynn - who imploded the Desert Inn the day before we arrived - was merely trying to win back the hipsters he alienated after destroying the Sands. I mean, why tear down an original and build a replica? Especially in a desert where you have plenty of room for both! Venus and the Cove are cool enough, but they are not truly authentic, or original - just colorful ghosts of the old Vegas glory. I was happy they were there nonetheless, though I hear Wynn, besides being an enemy of pop culture history, is also a union buster. All in all, I'd prefer to visit the original Sands, but that is sadly no longer an option.
We had lunch at the Peppermill with B movie master Ray Dennis Steckler, returning to the Parkway on Valentine's Day with his classics The Incredibly Strange Creatures Who Stopped Living and Became Mixed Up Zombies and The Thrill Killers. Ray complained he can't find any good acting talent in Vegas and has trouble casting his new films. I mentioned Monica might be available…
The next day we had lunch with sweet, lovely Vitina Marcus, "the Green Lady" on Lost in Space (whom I interviewed for the latest issue of Planet X), in the "Ocean's 11" room of the Venetian's Warner Brothers Studio Lot restaurant, each room of which is dedicated to a different movie (the other really cool one was "Casablana.") The Ocean's room was pretty nifty, with the right retro color scheme, plush booths, and even a stage with mike stand. Best touch of all, Frank, Dino and Sammy could be heard singing non-stop in the background. The waiter said it was built on the very spot where they filmed the original movie. Sure it was.
Right afterward, we headed for the studio of another cult movie legend, director Ted V. Mikels, just wrapping up shooting the sequel Mark of the Astro Zombies. Ted - who looks like a tough Santa Claus - let us explore the "spaceship" set, which was just mind-blowing. It was all cardboard, spray painted paper plates, toy ray guns, skullcaps with Christmas lights, paper mache machetes, household items and other bits of low budget ingenuity. It was like a time warp back to a 1953 Ed Wood movie - just glorious! REAL B MOVIES LIVE IN THE 21ST CENTURY!!
We ended our brief, busy journey with a visit to the Liberace Museum, which is exactly what you'd picture.
All in all, a good trip, my second to the City That Once Was Capitol of Cool.
THE BOYCOTT BEGINS
The week before my Vegas trip to spread my O11 boycott abroad, two separate items about the protest appeared in the SF Weekly (see Michael Fox's piece at www.sfweekly.com) and the East Bay section of the Friday Chronicle, in Josh Sens' column "East Bay Etc." Amazing - Afghanistan, anthrax, and now THIS!
Why bother to cover it, and why bother to do it?
For one thing, look at all the free publicity it's getting me! But that was totally unexpected. I really am opposed, ideologically, philosophically, culturally and every which way, to most remakes, including the impending rip-offs of beloved sci fi classics Forbidden Planet (an icon of the 50s) and Barbarella (an icon of the 60s), neither of which could possibly be improved upon in any update. My whole point in a nutshell is - WHY NOT CREATE SOMETHING TOTALLY ORIGINAL THAT IS AS SIGNIFICANT TO OUR ERA AS THOSE FILMS WERE TO THEIR'S?!
Plundering the past for ideas is nothing new, but at least please give the new version its own identity by calling it something else. Case in point: Stephen Soderberg's needless but inoffensive remake of the classic noir Criss-Cross, which he called The Underneath. It wasn't nearly as good, as the original, of course, but the fact that he chose to give the remake a new moniker allowed us to reckon with it on its own terms, and reduced inevitable comparisons.
Now Soderbergh has completely blown it, and alienated me forever. Like he cares.
For one thing, he isn't even a true fan of the original Ocean's 11 - he simply wanted to update the concept of an all-star heist flick. Fine. Not even Sinatra has a patent on that idea. BUT WHY NOT CREATE NEW POP CULTURE INSTEAD OF WARMING OVER A LEGEND FROM ANOTHER TIME AND PLACE! The original Ocean's 11 was a time capsule travelogue of Classic Vegas, and a grand showcase for the timeless, matchless charisma of the Clan. The plot was incidental, and hardly cried out for a modern spin. The fact is, Ocean's 11 is widely regarded as THE Rat Pack flick (though they subsequently made several films together, detailed in my article in the latest issue of ATOMIC Magazine). Remaking it is on par with remaking I Love Lucy. If you really just have to get together a bunch of movie stars and have them hold up Modern Vegas - ugh - go ahead, I wouldn't care of notice, but DON'T CALL IT OCEAN'S 11 - THAT'S BEEN DONE ALREADY! If it ain't Duck Soup, don't call it Duck Soup.
In an interview, Soderbergh expressed disdain for what he deemed the "smugness" of the original. Newsflash for Stevie Blunder - that detached attitude is called COOLNESS, you clueless snob! Frank, Dino, Sammy, Angie D. , Richard Conte, Cesar Romero and company were REALLY COOL, they don't have to ACT COOL, like Clooney, Pitt, Damon, Roberts and Garcia will lamely attempt. The trailer for the remake looks like Mission:Impossible 3 - another pop culture franchise taken over and ruined by a pointlessly revisionist, egomaniacal, irreverent mentality. On Letterman lately, someone told me Dave asked Julia Roberts if she'd seen the original. She replied she'd tried twice but couldn't get through it. What a BIMBO! Obviously the marketing minds behind this mess want to sucker in potential fans of a Rat Pack remake (even though the Rat Pack is not even referenced in the new film or on its soundtrack!?), and here a star of the remake disses the beloved source material on national TV! I can't stand Julia Roberts, and normally just ignore her, since that is how I respond to people and things I strongly object to, preferring to spend my time and energy on people and things I like, or enjoy disliking. But now she's crossed the line - the picket line, that is. Pitt, Roberts, and Soderbergh are the most arrogant airheads in Hollywood, the direct antithesis of what the Rat Pack and Ocean's 11 were all about. This is culturally criminal, and I won't just sit back and let it happen without a fight!
As for George Clooney - people often defend him to me, like I am protesting the remake just because he's in it. This is not a knock against George - I actually like George, though he's no Rosemary. He has an old fashioned charm and is one of the few charismatic movie stars we have today, relatively speaking. He's fine in stuff like O Brother Where Art Thou and From Dusk Till Dawn - but not in roles originated by Frank Sinatra, a true icon and legendary all around talent. Sorry, George is not "Danny Ocean" - that role belongs to Sinatra for all eternity! Can you picture Sinatra as ER's Doug Ross? Would you even want to? And Brad Pitt? Ever see that bum on TV interviews? He's a slob, the stylistic opposite of Dean Martin, the King of Cool! And I guess Matt Damon is today's feeble answer to the suave sophistication of Peter Lawford? That says a lot about the pitiful times we live in. Don Cheadle is one of several token black guys in the new 11, but he is not "Sammy" (who is?) - even though he effectively played Sammy in the HBO biopic, and was in fact the best of that bunch.
How could all this be allowed to happen? From now on, when you walk into a typical video store and ask for Ocean's 11, some pimply faced punk will hand you a fucking Brad Pitt movie. Kids today need to be edified about classic cool and historical pop culture - to casually and cynically "re-imagine" our past for modern minds is ripping off their present and our cultural future, not to mention our sacred past, which we will ALL be relegated to someday, remember.
To put my pet peeve perpetually in perspective:
How would you Beatles fans feel about 'N Sync remaking A Hard Day's Night? Or how would Prince fans feel about Eminem remaking Purple Rain? Or how would Elvis fans (like us) feel about a remake of Viva Las Vegas with Ricky Martin and Jennifer Lopez?
Guess what? THE LAST ONE IS REALLY HAPPENING!
I was only kidding when I casually speculated a long time ago that Viva Las Vegas was next on the Hollywood shit list! Did some creatively bankrupt producer psychically hear me? Or is Hollywood so desperate for ideas, they actually stoop to remaking AN ELVIS MOVIE WITHOUT ELVIS! Viva Las Vegas was concocted solely and exclusively as a star vehicle for Elvis and Ann-Margret (J-Lo is fine, but she ain't no A-M, not even close, anymore than Julia Roberts could ever hope to fill the high heeled shoes of sex goddess Angie Dickinson). Ocean's 11 is and will always be A RAT PACK MOVIE - and these modern bozos are THE ANTI-RAT PACK. That's what my sign will say:
BOYCOTT THE ANTI-RAT PACK.
Even if it comes to the Parkway -which means Parkway owner Kyle, who does not share my views and can't wait to see it, will have superceded me - I will STILL picket the remake, even there, and Kyle knows it. Do I expect to actually dissuade anyone from seeing it? No. Do I expect legions of Fight Club, Erin Brockovich and Perfect Storm fans to breeze right by me with a bemused, patronizing smirk on their pusses? Yes, of course. Do I still need to make a stand for something I strongly believe? Absolutely. Care to join me, shoot me an email, I'll let you know which theater we're picketing first. Want to give an opposing POV? Ditto. Either way, please include a return name and address so I can respond in kind.
My one consolation: anyone out there remember the '80s TV remake of Casablanca starring David Soul in Bogey's role of Rick?
Didn't think so. I rest my case. See you on the picket lines beginning December 7 - BOMBS AWAY ALL OVER AGAIN!
FRANK'S BIRTHDAY PARTY
Finally, I will throw an official Thrillville tribute to my spiritual mentor Frank Sinatra on Thursday, December 13, at The Parkway, the same week the remake opens. FRANK'S BIRTHDAY PARTY (a day late) is indeed part of the overall protest, so if you don't want to shiver on the picket lines with me, you can show your support by just showing up here. The feature will be one of my favorite Frank flicks, 1957's PAL JOEY, co-starring Monica lookalike Rita Hayworth and buxom Kim Novak (who also starred with Frank in the great 1955 drama Man With the Golden Arm). '50s San Francisco looks positively sumptuous in Technicolor, as it did the following year in Vertigo, and the soundtrack features some stellar standards like "My Funny Valentine," "Bewitched, Bothered and Bewildered" and of course "The Lady is a Tramp." Sinatra swings in signature style, tilted hat, rumpled overcoat and all. It's all just bee-yootiful to behold. I'll also have a pack of Rat Pack movie trailers to show - including of course the one for Ocean's 11, the entire film still not available in 35mm, though hopefully that will be a positive by-product of the remake - all from Uncle Bill. And best of all, my "minister" Robert Ensler (www.TheRatPack.net), who performed our wedding ceremony as Reverend Dean Martin, will give us his special Sinatra stylings live! Robert is also joining me on the picket lines. You don't have to. I am bringing the cause to you, indoors. This is my last Thrill-show of the year, though Monica and I will be hosting the prize segment of the Parkway's New Year's Eve Pajama Jam, featuring a dance party and the fun film Grease, on December 31, beginning at 7:30 (go to www.picturepubpizza.com for updates and advance ticket info.)
It was a very good year, and the best is yet to come.
NEXT MONTH (AND YEAR):
MOTHRA IN ENGLISH, RAY HARRYHAUSEN IN THE MOON, AND A VISITOR FROM VENUS!
Please see SCHEDULE link for
updated ticket and program info