THE THRILLVILLE PULP FICTION COLLECTION
COMING MARCH 2015 from A Double Life Press:
THE THRILLVILLE PULP FICTION COLLECTION, Volume One:
A MERMAID DROWNS IN THE MIDNIGHT LOUNGE
plus!
FREAKS THAT CARRY YOUR LUGGAGE UP TO THE ROOM!
The Thrillville Pulp Fiction Collection is a series of "double features" reprinting the best work of underground literary legend Will Viharo in definitive editions. Volume One: A Mermaid Drowns in the Midnight Lounge and Freaks That Carry Your Luggage Up to the Room is the literary equivalent of a classic "grindhouse" bill: twin erotic fever dreams exploding with malevolent monsters, sexy sirens, gruesome gangsters, zeitgeist zombies, dreamy decadence, hipster hedonism, voluptuous violence, nightmarish nihilism, sensuous surrealism, pop culture potpourri, and much, much more. They are like nothing you've ever experienced.
COMING IN 2015 from Gutter Books:
The new Vic Valentine novel HARD-BOILED HEART!
Older but hardly wiser, Vic Valentine is in hot water again as he becomes embroiled with a movie star named "Charlie" planning to make a film about the anachronistic private eye's tumultuous life. Trouble is, the alcoholic actor is also a serial murder suspect, complicating both Charlie's career and Vic's dreams of redemption and success. Meantime, Vic becomes erotically entangled with Raven, a voluptuous but vicious burlesque dancer, and is driven to despair by a seemingly supernatural stalker in the form of a mysterious sailor statue named "Ivar." Follow Vic through the mean, green streets of Seattle as he copes with middle-aged melancholia while confronting demons from his past that threaten the guardian angels of his future.
BACK IN PRINT!
LOVE STORIES ARE TOO VIOLENT FOR ME
Love Stories Are Too Violent For Me is the steamy, seamy saga of a San Francisco private eye named Vic Valentine, bravely facing the fin de siècle with his heart still rooted firmly in a fatally romanticized past and his head stuck someplace even darker. A client has hired him to find a mysterious, promiscuous femme fatale who turns out to be his own long lost love, leading him down a twisting trail of decadence, danger, and deception. This is ironic, iconic pulp served hot 'n' fast, straight out of the emotionally gory grindhouse called Life.
BUY:
Amazon
Kindle Edition
Barnes and Noble
Vic Valentine's Facebook Fan Page
A MERMAID DROWNS IN THE MIDNIGHT LOUNGE
A Mermaid Drowns in the Midnight Lounge is a lushly lurid, exotically exploitative, sensationally sensual pulp-noir potpourri where star-crossed lovers, sea sirens, monster men, gangsters, porno filmmakers, jazz standards, and an Elvis-spawned zombie apocalypse all intermingle across several parallel dimensions in time and space. This story is unlike anything you've ever read.
BUY:
Lulu
Amazon
Kindle Edition
Barnes and Noble
Mermaid Facebook Fan Page
Listen to the original book soundtrack, "Music for a Drowning Mermaid"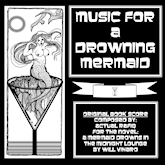 ---
---
DOWN A DARK ALLEY
Down A Dark Alley is a torrid tale exploding with raw romance, savage sex, voluptuous violence, mirthful mayhem and delirious decadence as a sorry sap takes a breathless cross-country walk on the wild side with a ferocious femme fatale, desperately trying to escape a chaotic past and facing an uncertain future. This is hard-boiled but heartfelt neo-pulp fiction for fearless dreamers.
BUY:
Lulu
iTunes
Amazon
Kindle Edition
Barnes & Noble
NOOK
Dark Alley Facebook Fan Page
A Vic Valentine Double Feature!
FATE IS MY PIMP
plus!
ROMANCE TAKES A RAIN CHECK
Fate Is My Pimp picks up the torrid trail of Vic Valentine, Private Eye as he traverses the mean streets of San Francisco and beyond in search of a mobster's missing teenage daughter, encountering various voluptuous vixens, a female surf band, and a stalker leaving him mysterious musical messages, all while infiltrating an Elvis-theme commune for runaways, led by a deviously decadent Deacon Rivers. Follow the further misadventures of the misguided hero of Love Stories Are Too Violent For Me as he continues looking for love in all the wrong places, and unfortunately for him - finding it.
Plus!
Romance Takes A Rain Check finds Vic back on the East Coast, tracking down a lead on his cop father's killer, visiting his mother in an asylum, and reuniting with his high school sweetheart, Dolly Duncan, now married to a doper dentist. Nothing is what it seems, times and people have changed, and Vic is going to learn the hard way - again - that some bones, and boners, are best left buried.
BUY:
Lulu
Amazon
Kindle Edition
Barnes & Noble
Vic Valentine Facebook fan page
Another Vic Valentine Double Feature!
I LOST MY HEART IN HOLLYWOOD
plus!
DIARY OF A DICK
I Lost My Heart in Hollywood
chronicles the strangest case yet in the so-called career of Vic Valentine, Private Eye, as an unlikely tryst with the B movie scream queen of his dreams, Velma Vale, leads him down a dark, twisted path of paranoia, voyeurism, degradation and death. The bizarre action heats up even as his burning loneliness and simmering sexual obsessions flare at the forefront of his tormented consciousness, with caution and common sense cooling idly on the backburner.
Plus!
Diary of a Dick
tells further tantalizing tales of Vic chasing tail while allegedly on the trail of True Love, all the way to New Orleans and back again, as the femme fatales of his past and present suddenly converge with prurient promises of promiscuity. As always, strings are attached to these erotic escapades, but the ties that bind begin rapidly unraveling, and Vic is left hanging by a thread like a doomed puppet. The mysteries of love have never been more elusive.
BUY:
Lulu
Amazon
Kindle Edition
Barnes & Noble
Vic Valentine Facebook fan page
---